Looking Back to a Hopeful Future
It's hard to believe it's been 7 years since we shared the Apple stage with Steve Jobs to debut the game that would become Infinity Blade. Since then, the ground-breaking mobile series saw its epic conclusion with Infinity Blade 3, two bestselling novels, soundtracks, collectibles, and more.
So much about the mobile gaming space has changed in these 7 short years. One thing that's remained is the desire we all share for high quality, fun games that challenge and entertain us in new ways!
We're so proud of the Infinity Blade series and its ability to stand the test of time - so far! We've worked hard to keep the games updated so that they're always running at their best as new hardware and software continues to roll out. Most recently, we released optimization updates to ensure the games continue to run smoothly on iOS 11 and we fixed a few outstanding bugs (where DID Ryth's clothes go anyway?). We've also got new Clashmobs in Infinity Blade 3 every week and challenging Aegis Tournaments each month.
Most of all, we're grateful to all the gamers who joined us on this journey and continue to love and support Infinity Blade. Our team has been working hard on an exciting new project, but we are hopeful and confident we will return to make more Infinity Blade games in the future!
Please join us this week as we celebrate the anniversary of Infinity Blade! We'll be sharing some of our favorite moments and would love to hear some of yours as well. We'll also have promotions for all three games in case there's one you still want to jump into. Tons of swag giveaways. Best of all, we'll be turning up the volume on Infinity Blade III Clashmobs, with exciting new challenges and rewards everyday this week. Come play with us!
Here's the full schedule of events and you can see full details on our forums: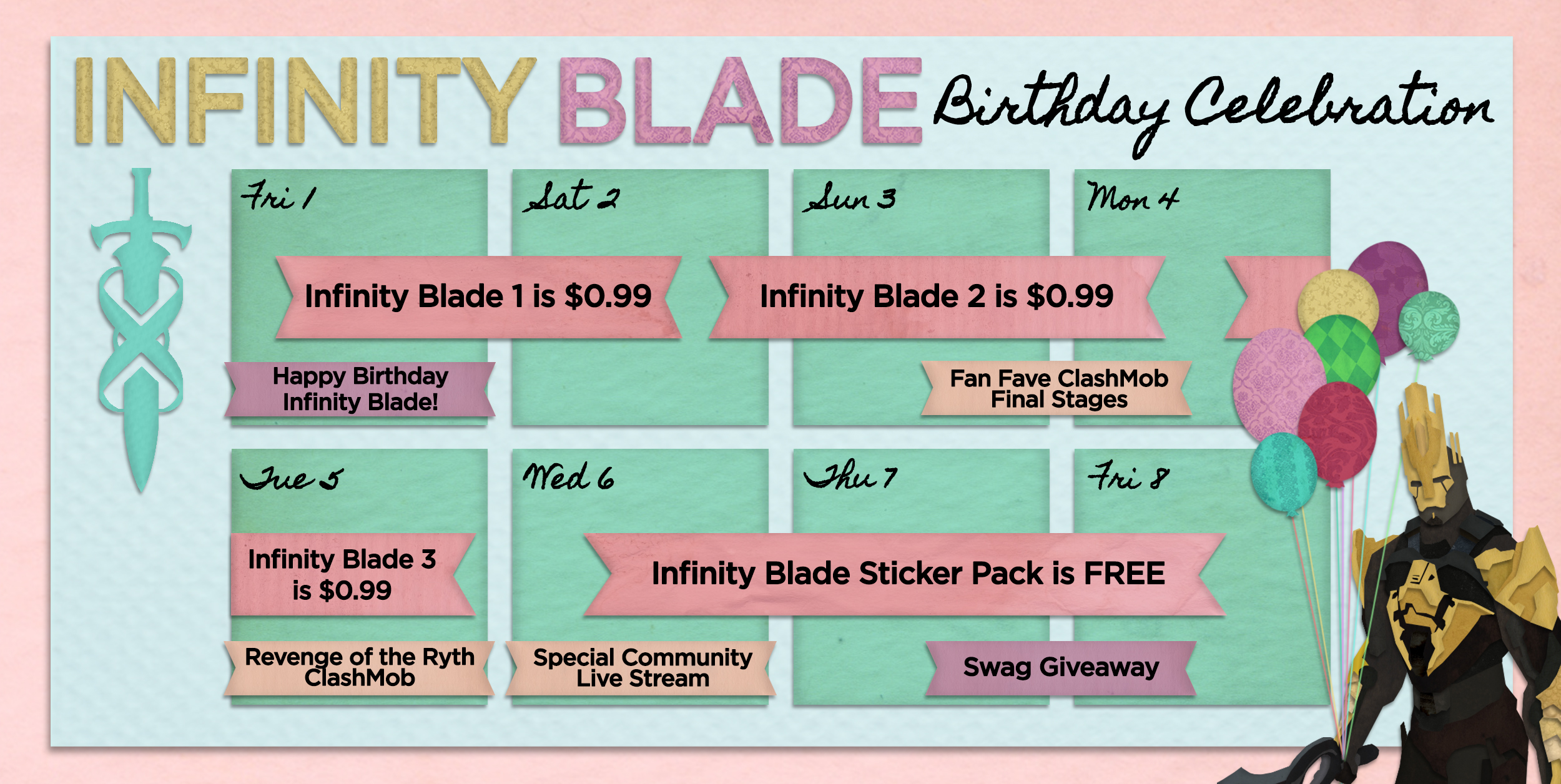 You can pick up Infinity Blade, Infinity Blade 2, and Infinity Blade 3 on the App Store today.
Be sure to connect with us on our forums, Twitter, Facebook, and Instagram. Read more about IB lore on official website.