Current Progress Updated Frequently
™
:

rapfamily4 on the Mercinary
Post here
Metalfist on the Slith:
Post Here
Metalfist on the Manta:
Post Here
AndyN on the Gasbag:
Post Here
AndyN on the Krall
Post Here
Quadj130 on the Pupae
Post Here
KazeoHin on the Nali Cow
Post Here
KazeoHin on the Titan
Post Here
KazeoHin on the Brute
Post Here



Check the thread for awesome concepts by PaperCoffee, Sly, RapFamily4, Spectre-Owl and more!



Original Post:
Hello All! A few streams back, the crew said that Invasion (one of my favourite gametypes.. EVER) was a great idea, but one that requires too many resources in order to get in game. Epic agreed that the biggest hurdle to getting this awesome gametype in the base game (or even the marketplace) would be art. Art takes time, and getting a full-fledged character from concept to reality takes a lot of work-hours. Good thing we have a huge community of artists looking to get some exposure and help out!
One of my favourite things to model are creatures. I first started doing creature sculpting about 7 years ago, and I got so stuck into it that creatures took over as my main form of artistic expression. So, I'm RIGHT at home doing some fun creatures for the new UT: and I know there are a TON of people here who would love to participate too!
This thread is my attempt at getting the community together to help fill out the Unreal universe's monster portfolio
We need gasbags, titans, warlords, dragonflies, those spider things from Hell (actual place in Unreal). Lets get this stuff going. Concepters can make awesome 2D art, modellers can make awesome 3D art, and animators can make awesome 4D art! Maybe we can only really get a few monsters in UT, but this is an awesome opportunity for artists to get together and help make a AAA title happen: not a bad thing to have on your portfolio; not to mention you can help create Invasion, Monster Hunt, and maybe the basis for a Single-Player or Co-Operative campaign!
So far I only have rough 3D scuplts to contribute, and I am by no means ready to devote 100% of my art time to this, BUT
thats okay!
The core of UT (maps, wepons, characters) is really important, and I don't want to rip away any artist from assets that are more immediately required, but if you have a craving to see a skarj pupae in-game: a bit of work here, a bit of work there: it all adds up! so don't be afraid to do an hour of work every couple of weeks in between devoting most of your time on other UT stuff!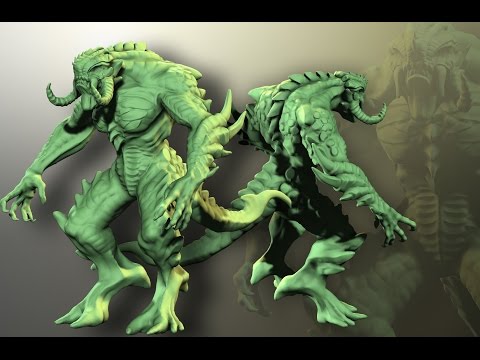 That's what I have. I'm planning on finishing up at least one of the models I've started, maybe making some more concepts, but one monster does not an invasion make! Lets makes some art together!