Haven't seen too much on this forum (except
yesterday
!) for ideas about the Bio Rifle, either Artistic, gameplay, or animation. Wheres the love for the Bio? It has always seemed like the odd one out of the bunch, people using it primarily for the secondary fire. I want to make it a cool gun to use, desired to be spawned next to.
I would like to pose a Bio-Rifle concept that takes gameplay (weapon function) changes, animation, and vibe into account.
I am not a particularly good artist, and at the moment I will only be working off of sketches. I may try and get an computer graphic image in there later on.
So the basic idea is a mining tool turned weapon system. processed tarydium waste has unique properties of being able to dissolve most materials except tarydium, making it ideal for mining and extraction. Original use of the "Bio Tool" or GES nickname by miners was to dissolve the rock around the tarydium crystal...until one worker went postal, over pumped the boo chamber and slimed the foreman flooding the mine and killing dozens. While the mine was declared a total loss, the idea wasn't.
Inspiration:
Areas I took inspiration of:
-First and foremost, took a bit of inspiration from
Teriyaki Style's
concepts, in particular C1, & A6. I also like his approach fora full design and I want to draw out how the goo blobs may look. Kudos To Teriyaki Style!
-Super Soakers: Classic super soakers with the water tank above the nozzle.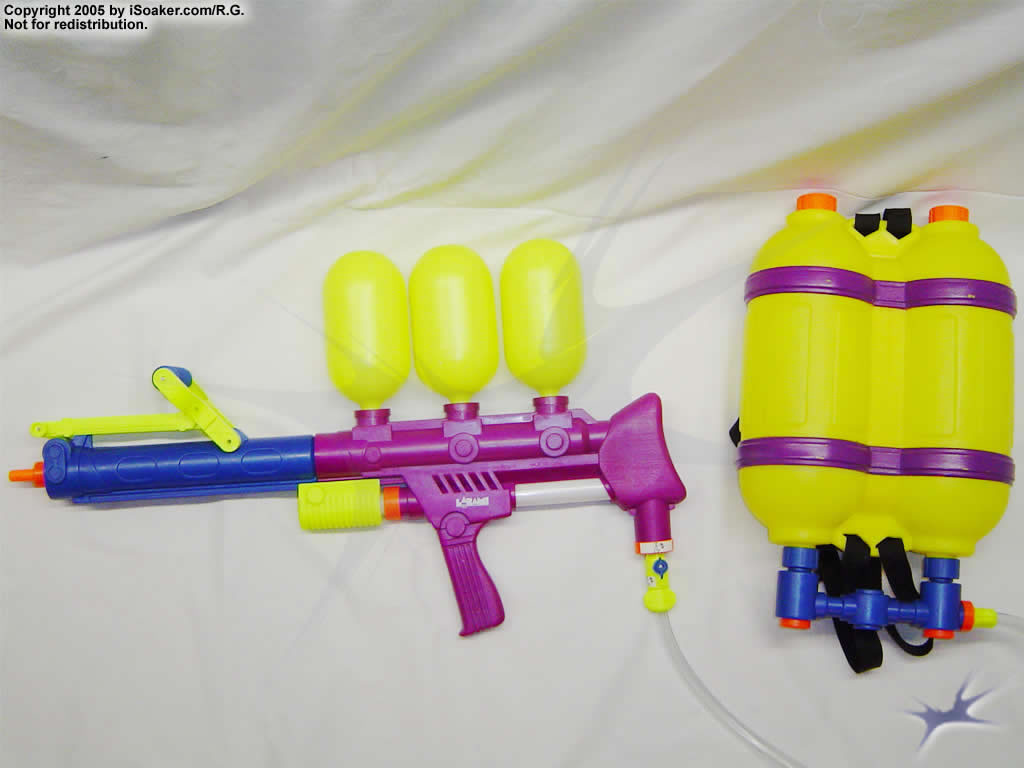 -Fire Hoses; which as I discovered share a large resemblance to TF2's Medic gun.
-Handles of Sorts:
Art:
So we have a lot going on in the images below. I went for a more industrial tool based weapon, with a few homages here and there to the Unreal / UT bio weapons. I wanted the Ammo container (compressed bio sludge) to be visible instead of underslung, and I also really wanted the main chamber to be visible. So instead of a single chamber we have two. I would be fine if it was a backpack instead of ammo canister, but that may be difficult to animate. I wanted to show tubing, the pump/compressor inside the main chamber, a few gauges and such (analog or digital / hybrid). I think most parts of this design can be modified or made modular and moved around for prototyping. I did a bit of prototyping below for the Ammo canister. The handle of the weapon also acts as control for an internal air pump. Air mixes with the compressed Bio Sludge to help it expand, and depending on how much air is pumped with the goo will create different fire modes (see gameplay below for more detail)
First-Person View, focus here was on the back end. Canister dimensions are bad, and the front is a bit sloppy. I would like to add more gauges/wires/ mechanical stuff. Note in the main chamber, there is a pump-like cylinder which will pull back and forth to draw and push out goo.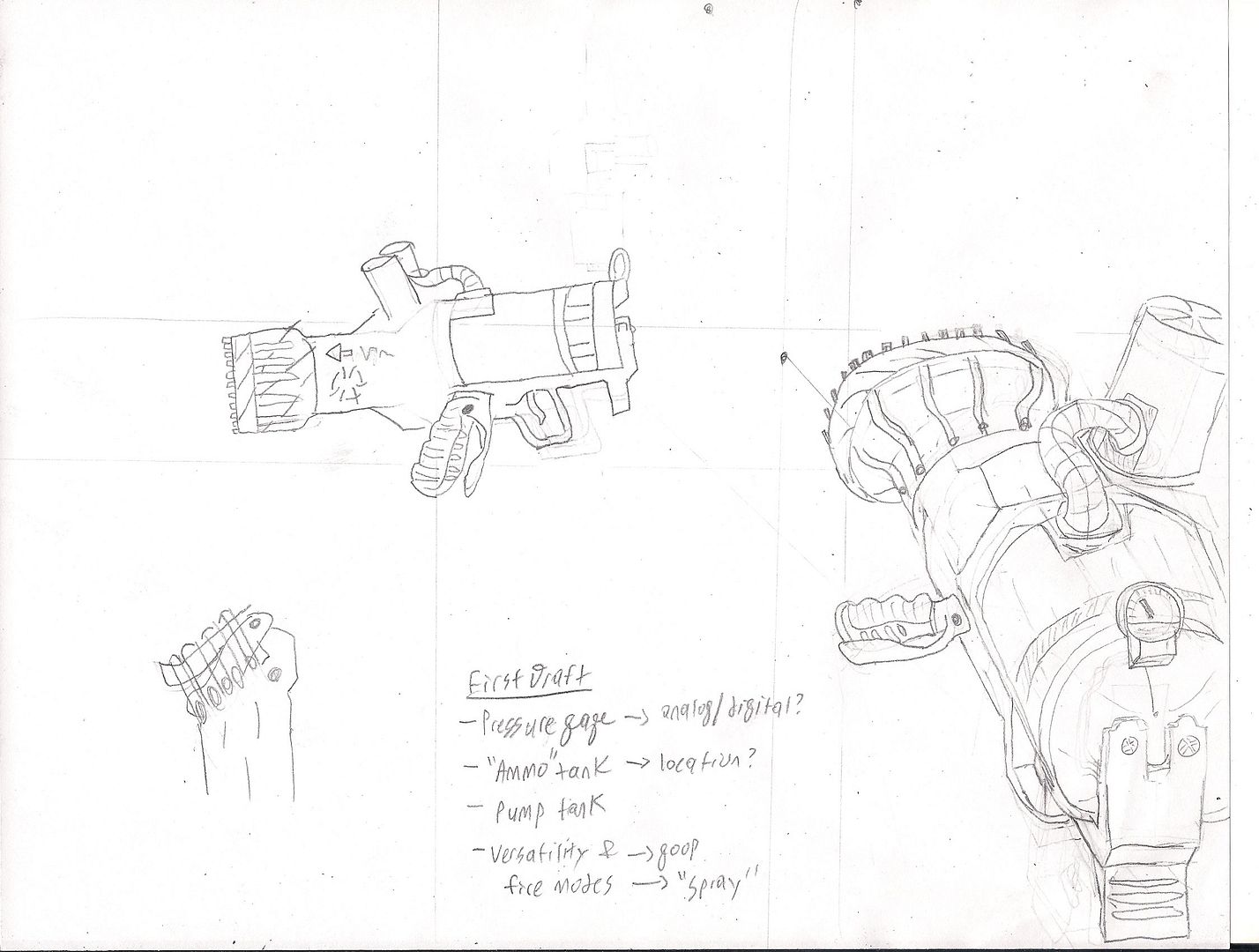 Front 3/4's view. I went for a more "blast door" look to the front. Not too important since its away from the player and hard to see (goo blob may be hovering in way). The blades will fold backwards in a 3-dimentional fashion, since they can't slide outwards. They open and close/slide of course for the different blob sizes. Metal rivets are inside as the gun enlarges near the goo chamber.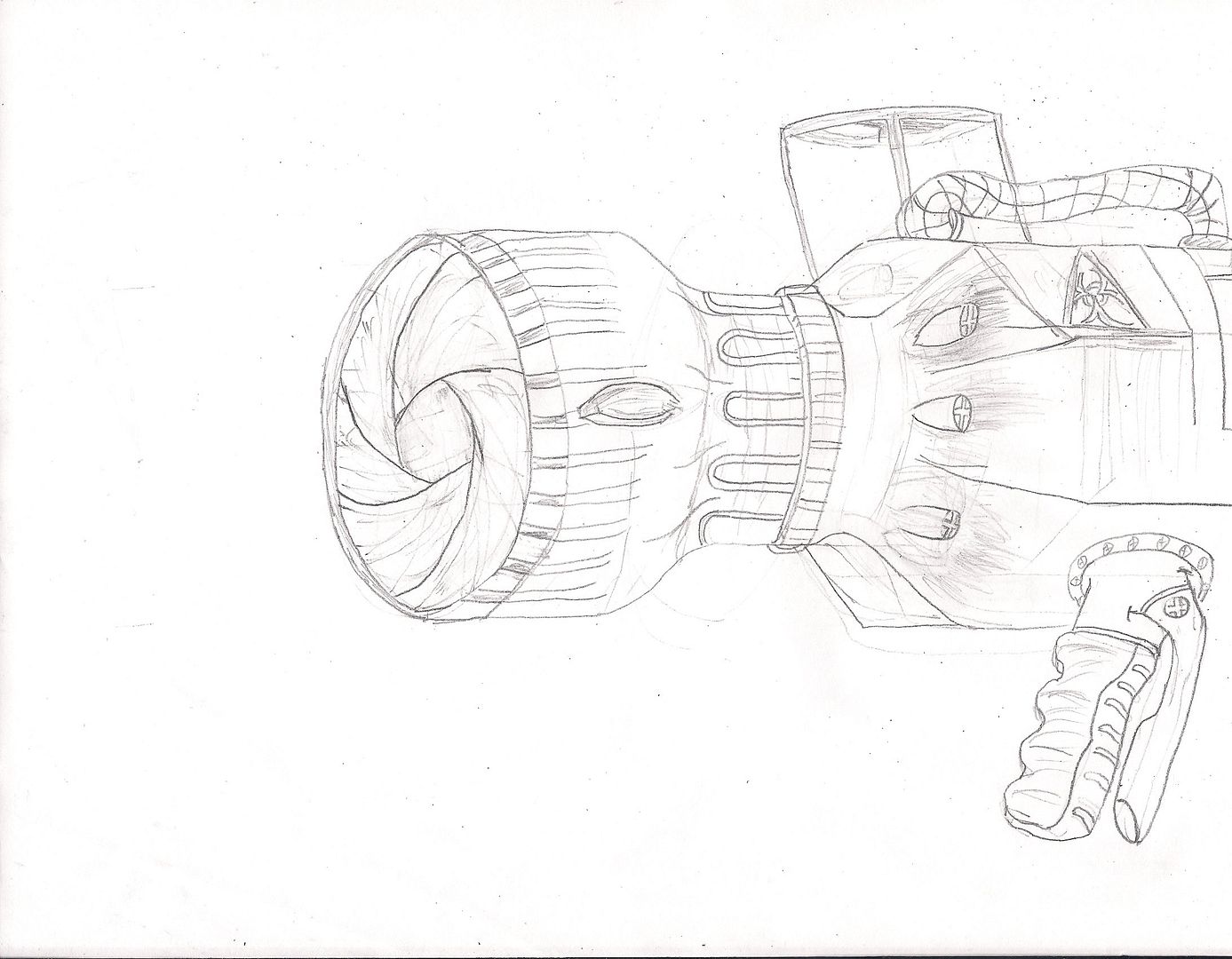 for the coloring, I tried to go for a brass metallic look for certain parts, which didn't come out too well in colored pencil. Grip area is rubbery-same material as a water hose. Biohazard/toxic warnings can be placed around. Open to ideas for the front area, I didn't want to just leave it as smooth metal. Prongs on side that stick out were inspiration from some real-life fire hoses. The green lines are glass and were also inspriation from Unreal 1's Bio gun, which had lines on them. Not sure if I like how it turned out.
I tried out a few different locations and duets for the bio canister. Personally I am a fan of the front "Split Tube". I would also like a backpack container, but that depends how complicated animations would want to be with the variety of player models.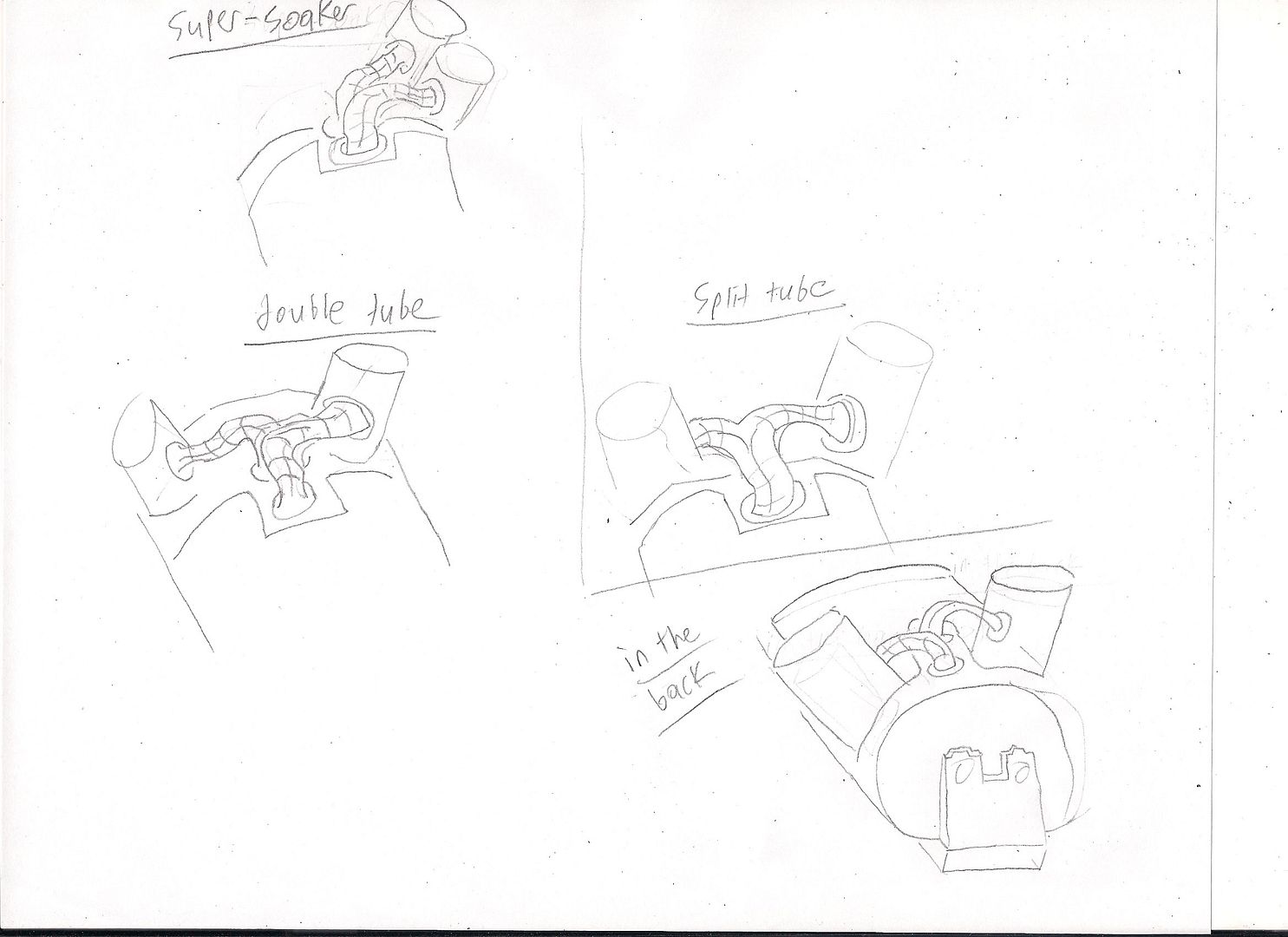 **Know I know there are subforums dedicated to the next two sections, but since I believe the art and gameplay go hand in hand to create the design, I would like to detail my ideas here. I may open up a thread in the future in the weapon gameplay or animation forum to throw around ideas at a later time**
Gameplay & Effects:
(I will make some images to describe these better visually in the future)
At the moment the Bio has been constricted to two fire modes, made up of
-Primary: Press and hold for automatic bio glob release at a fairly slow rate.

-Secondary: Hold to charge up a large glob, let go to release.

This new UT has added an additional functionality:
-Primary Hold (first) + Secondary Hold: Fast, inaccurate glob release; "mercury balls" that slide or roll accross the ground in a spread.

-Blobs Become "magnetic" towards enemies after some time. This I do not like and isn't satisfying either to get kills with or to die to.

-Link beam creates a "web" from goo. Its a cool idea, but never used in practice as it takes too long to set up and probably voice coordination for teammates. Flag runners usually don't have 10 seconds to spare to set one up, and fewer choke points around.

I am not a game-play expert, yet despite these modifications I see most of the guns' use still come from the secondary fire. In conjunction with my design, I would like to propose additional fire modes and functionality. Not all of these ideas have to be taken, but I feel something has to be done to make the weapon more interesting!
Firstly, I feel the weapon has to have some use at creating a blocking point or threat aside from a charged secondary. Something that is harder to avoid than jumping over a few globs. This should also make the goo more visually dangerous; enemies need to fear the weapon when used in the right situation!
-When the "Mercury Ball" primary + secondary is used, the balls themselves should leave a trail of goo behind them that does a some damage when stepped in. The balls themselves could slide or roll; either work. Fumes should appear over the bio blobs and the goo trail; make it look hazy and dangerous! This is The year 2015, make this UT as visceral for its time as it should be! We should not be constrained to just having more pixels in the texture! The spread and inaccuracy probably needs to be adjusted as well.
In conjunction with my design, I would like to add a "super soaker" fire mode.
Secondary Hold (first), + Primary Hold: Opposite motions of the current mercury balls; The goo glob that has been forming is "sprayed" out. When the goo hits surfaces it "soaks" it in a thin layer off goo. Stepping in the goo works like jumping in the goo pits in deck; damage over time while standing over it. Not a permanent DOTS, but like the napalm grenade in CS. As long as you are over the "danger zone" you get damaged. I think this functionality is a)fun, as the bio rifle has always had some cheese element to it, b) useful for quick area denial, as a flag runner might find useful against a pursuer. In terms of animation The handle of the weapon acts as the air pump into the goo chamber. While in primary fire, the handle is periodically pumped (all done on its own, this is just the animation) to keep the goo chamber at a good pressure, when this mode is used the left hand squeezes the handle until the stream slowly ends. The length and time it takes for the stream to last is dependent on how long the secondary fire was charged. (For the traditional secondary fire, the left hand would just pump the handle quickly during charge up).
-Enhanced fire modes; While this super soaker mode would add an interesting dynamic to gameplay, I would also like to add some teamwork element, evolving on the current concept of creating a web with a link gun in the current build.
A second player with a link gun can link to the player holding the bio rifle. The enhancements that occur to each fire mode may be (these are ideas I am tossing out):
a. Primary fire - Goo balls are larger, visually appear on fire (green fire), like napalm, and "splatter" when they impact a surface in a larger than normal radius, with the splattered goo itself remaining on fire. For lore purposes, the link gun energizes the goo, making it very unstable and highly flammable. Uses twice as much ammo per shot
b. Secondary fire - releasing a charged ball will expand out in a web shape, like a net made up of goo on fire. Uses twice as much ammo of course, and maybe doesn't insta-kill
c. Primary + secondary (sliding mercury) - Sliding/Rolling balls now become bouncy, so the enemy has to evade bouncy green balls on fire! Green fire!
d. Suggested Super Soaker mode - Turns the weapon into a flamethrower. Not a spammy flamethrower, but one with a nice realistic arc, since this is a flammable liquid being ignited...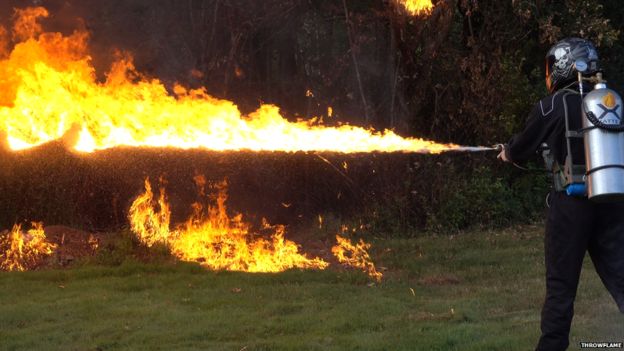 Did I mention the flame should be green? Now I know actual DOTS should be approached with caution in an FPS, but this would need to have dots. Players caught in the flame catch on fire. The flame itself would have the same length, and even a bit of an arc, as the normal "super soaker" mode would have. Should also use more ammo than normal.
Now these next two link-based ideas are a little wild, but worth mentioning:
e. If a blob is lying on the ground, shooting it with a link will cause it to burst into flames and/or splatter a small area, proportional to blob size.
b. Blobs lying on the ground can be "picked up" with the link secondary, and held at the tip of the plasma beam (where the plasma beam ends). These blobs from there can be waved around, and since they carry some weight, will create a wavy motion with the link secondary, maybe even some droop with an arc. If the Link holder presses the primary, instead of pulling back, the player pushes the beam in a whipping motion and launches the bio blobs like a sling-shot. At any point an enemy touching the blob attached to the end of the beam will cause it to burst as normal. I think this can add some interesting teamwork element, or even better yet, an enemy can intercept a blob with their link beam and toss it right back!
Pretty crazy ideas, but you get where I am trying to go. Make the other modes as fun and zany as the secondary, while making the weapons useful as area denial, and making it easier to deploy as a team weapon than the current link/goo web function.
I will be posting additional prototypes in the future, and I am getting my hands on some computer graphics software. I hope this at the very least inspires some more love and attention for the Bio!