DM-WarHouseRC1c
Ordinary house located in the middle of the forest. You can see 2 connected rooms- kitchen and living room. Everything seems to be normal except one thing- you're the size of a rat!
8 years after I made 2 maps for Unreal Tournament 3 (see my signature!) I decided to jump into Unreal Editor again. It was kinda hard- I'm not a student anymore with tons of free time
This time I decided to make something I was dreaming about- learn basics of 3d modelling program. I chose Blender and started learning it the same time I was learning UE4.
Yup- it's a giant map again! I know that lots of people don't like (or even hate!) this type of maps. It's not possible to please everyone
I know, that it's not photorealistic, best-looking, best modeled map for UT. But I really put my heart into the creation of the map, had lots of fun making it and kinda happy from the final result!
So why a giant map? I remember when I first saw a giant map for UT'99 when I was a kid, I thought that it's an amazing idea. Lots of us, when we were kids, were playing with all of these G.I. Joe action figures around a house and imagined that our rooms are some kind of arenas. Giant maps are all about FUN, not professional gameplay, cups, etc. Just f-u-n, sniping, camping, killing bots or reckless people who decided to uncover themselves
I hope you will enjoy this map, as much I enjoyed making it. Turn a blind eye to defects and imperfections, try to discover all the stuff I placed everywhere. There are some secrets, physical-based stuff you can shot to destroy/move and lots of small details I tried to add. There is even a secret room with a custom super-weapon,
Total Annihilator
!
Why it's RC1 version, not the final one? You may call it "1.0" version.
Since Unreal Tournament is still in development, I have to rebuild and re-release my map everytime game, or editor is patched. In the meantime I will add new things, fix errors and correct some stuff. For now, I want to focus on my new project (map), but I will return to DM-WarHouse everytime it will be needed. I plan to release Xmas/CTF version as well!
Some pics taken in a "real world"

And result in Unreal Tournament!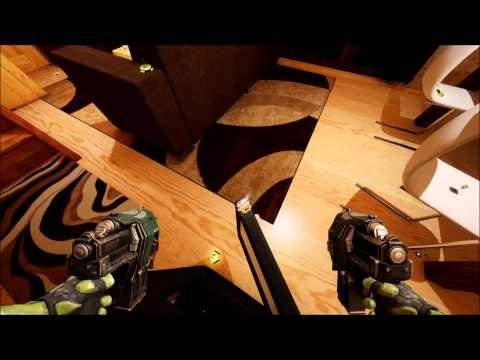 Known bugs:
- Bots get stucked in several places- it seems that they can't crouch or jump through few things.
- Bots can't get out from the old gramophone

Changelog (a3b>RC1):
- added new room with secret weapon
- fixed all jumpads to work with low-grav mutators
- new meshes: wood logs, plant, doormat, door handle, wall lamp in outside area, etc.
- lots of small changes, both in visual and gameplay side

Changelog (RC1>RC1a):
- recompiled for Unreal Engine 4.11 version
- reduced file size, from 313 MB to 229 MB!

Changelog (RC1a>RC1b):
- recompiled for new Unreal Engine version
- deleted invisible jumpad reported by DutchSmoke (thank you)

Changelog (RC1b>RC1c):
- recompiled for new Unreal Engine version

Download:
DM-WarHouseRC1c (from mpforums.com, 230 MB, checksum f4466eb40d9d093ff3a96d43ca564c12)
Readme.txt