CTF - Asteroid Drill
Previously: Asteroid Mining Facility
Status: Polishing level
Description:
This astoroid mining platform is currently stationed to mine asteriods in the belt of the planet EA-P9605. Valuable resources are collected for the Liandri Mining Corporation and serves as a battleground to maximialize profit gained from this station.
The map features very
low gravity
(0.25 gravity) outside and normal gravity inside the bases. There is a trap in the middle of the map (at the Udamage) which has been made in Blueprint. Shoot the button and try to trap & kill someone inside. There are also team based doors, which only open for a certain team.
I agree that this content constitutes a Submission under the Unreal Engine EULA ( https://www.unrealengine.com/eula ).
Download .pak:
Download the latest CTF-AsteroidDrill from UTCC!
or from an alternative mirror
Save it in "YourUserName"\Documents\UnrealTournament\Saved\Paks\DownloadedPaks and it should show up in Unreal Tournament.
For server admins:
/Game/RestrictedAssets/Maps/CTF-AsteroidDrill_v12
RedirectReferences=(PackageName="CTF-AsteroidDrill_v12-WindowsNoEditor.pak",PackageURLProtocol="http",PackageURL="yourredirect/CTF-AsteroidDrill_v12-WindowsNoEditor.pak",PackageChecksum="ca6e9ebedba442308c4b0c4c92933005")
Versions:
V12
- Recooked for new version
- Added linupactors
V11:
- Recooked for new build
- Changed some materials
V10:
- Recooked for new build
- Meshed out some more parts/material tweaks
- Changed the "legs" to nicer looking meshes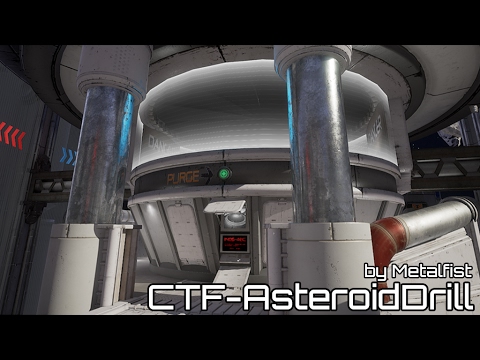 Old Changelogs: