Map Name: DM-SpaceNoxx
Current Version: Alpha 3.4e
Current Version Release Date: 11/12/16
Download:
HERE
Alpha 3.4e: Just a quick recook for the latest game update.
Alpha 3.4c Update Summary:
Rebuilt for 4.14 UE build. Lighting is substantially different with this build with more realistic sunlight (screenshots are out of date).
I agree that this content constitutes a Submission under the Unreal Engine EULA (
https://www.unrealengine.com/eula
).
Server Settings:
This is playable on the Unreal Carnage Hub already. Here's the info for other admins.
Game.ini
Code:
RedirectReferences=(PackageName="DM-SpaceNoxx_A3_4e-WindowsNoEditor",PackageURLProtocol="https",PackageURL="redirect.playunreal.com/ut4/users/UnrealCarnage1ff0/DM-SpaceNoxx_A3_4e-WindowsNoEditor.pak",PackageChecksum="eb7577edae0d2a9b81865a524dcbf0ba")
Rules .ini
Code:
CustomMapList=/Game/RestrictedAssets/Maps/WIP/DM-SpaceNoxx_A3_4e
Background:
This is a completely scratch built version of SpaceNoxx (not a conversion). It's going to be a while before I get to the beta phase since I have limited time.
Credits:
Obviously this is a remake of DM-SpaceNoxx in UT99 by Cedric "Inoxx" Fiorentino. The other lineage is from Fuegerstef's DM-FST-SpaceNoxx from UT2004. He gave me the green light to use that as inspiration for my scratch built DM-MCC-SpaceNoxx. People that played the UT3 version will notice that this is smaller but correctly sized for UT4.
Version A2.16 8 Player Mayhem: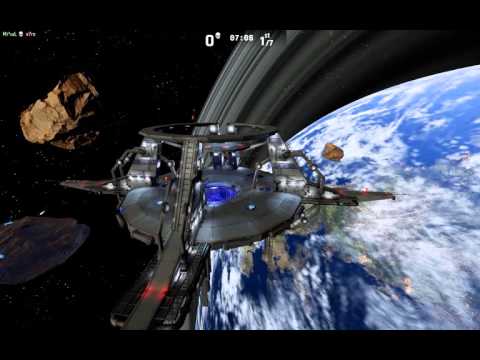 Version A3.4 Screenshots:
Version A1 Notes and Images: