Map Name: DM-Maelstrom
Current Version: RC3a
Current Version Release Date: 11/12/16
Download:
HERE
RC3a: Recook for latest build.
RC3:
Recook for the 4.14 UE update and other minor changes.
RC1:
This is the version I submitted to the Mapcore contest. Still has many issues and I need a new computer to be able to iterate on the lighting. Target was high fps and good player visibility. Next update will focus on a wider dynamic range on the lighting, custom mesh UV issues and figuring out why the rock material is incorrect after creating a pak.
Server Settings:
This is playable on the Unreal Carnage Hub already and can be downloaded by playing the map on there or using the "Download All Content" button in the Hub. Here's the info for other admins.
I agree that this content constitutes a Submission under the Unreal Engine EULA (
https://www.unrealengine.com/eula
).
Game.ini (RC3):
Code:
RedirectReferences=(PackageName="DM-Maelstrom_RC3a-WindowsNoEditor",PackageURLProtocol="https",PackageURL="redirect.playunreal.com/ut4/users/UnrealCarnage1ff0/DM-Maelstrom_RC3a-WindowsNoEditor.pak",PackageChecksum="9eda21d6c359c32bd18d04ef8ff75fdc")
Rules.ini:
Code:
CustomMapList=/Game/RestrictedAssets/Maps/WIP/DM-Maelstrom_RC3a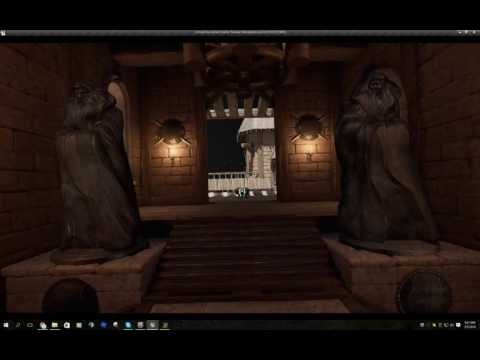 RC1 Screenshots:
Older:
Alpha 1.11 Summary:
This version has a significant change to the front of the castle and I added the redeemer in (which will be invisibility in Showdown of course).
Alpha 1.9 Summary:
I figured it was time for some "space castles"... This is a brand new shell I put together just for fun. A1.9 has some changes to tighten it up a bit so there's a bit more variation and a little less wide open ground. The sniper and amp have been swapped to allow for a TSD defense of the amp with the attacker needing boots as the second entry point.
As to be expected, there are a bunch of things that need adjusting fixing. Keep in mind it is a very early WIP. Have fun!