DM-Mica_B
[103MB]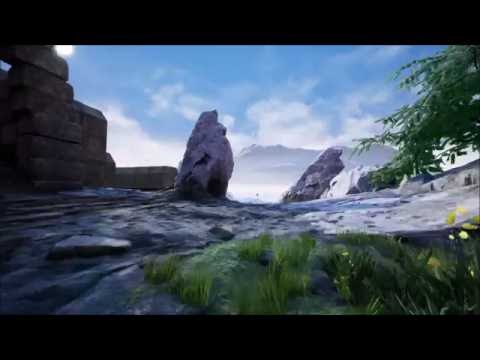 Version B:
I kept the overall size of the map the same but added some shortcuts and extra features. Most of the changes can be seen in the video. I added a cave by the rocket, and an inside area where I put the link gun. I lowered the ground near the original waterfall so now the helmet is on a short ledge. A lift was desperately needed near the flak cannon. I added a raised platform there too.
I'm gonna let this one simmer for a little while. My next objective is to replace the walls/structures in the level with custom assets. At the same time I'll make any needed gameplay improvements. Let me know what you think and if you encounter anything game-breaking! Thanks!
---
Hey all, here's a quick DM map I put together. We're getting a better variety of professional assets in each build so I figured I would create a small map with the newest ones. This started out as one room where I experimented putting assets together and eventually I just expanded it to a whole map. So I'll be the first to admit the gameplay is still a little rough. There aren't many exciting features, though I'd like to take some input and evolve the map into something more interesting. During my playtests the lower area with the rocket was rarely used so I may add another path leading to that room. Another note, the brown stone "buildings" are just placeholders and may end up being custom assets.
I also want to thank everyone who participated in the mapper's event last weekend, they got to playtest this map a couple times.
Code:
MapRotation=/Game/Maps/DM-Mica_B
RedirectReferences=(PackageName="DM-Mica_B-WindowsNoEditor", PackageURLProtocol="https", PackageURL="redirect.mpforums.com/ut4/users/tidu11b84/DM-Mica_B-WindowsNoEditor.pak", PackageChecksum="8b955bf6564e6f12830a0e5787f8fdc9 ")