Hello!
9/23/2014
New Download link with updated Version.
https://ut.rushbase.net/Numb
DM-Revel-04
9/15/2014
I COMPLETELY redid this level. I started 2 days ago and I believe that I finally have something to show. My first Map making attempt I had no real grasp on UT because I haven't played UT for 6 years let alone any FPS. But now I believe that I have regained some knowledge of what makes UT fun. The approach im going for is both a Rocket Arena map and a duel map. I don't really know if it's possible but i'll try anyway.
Possible Problems:
* It might be too complex in terms of movement. I think lifts are a little buggy still, and there's not really much I can do about it.
* People in irc suggested that I remove some columns, so I did.
* I should possibly reduce the amount of grates in the level, or at least make it easier to shoot through them. They are intended to break Line of Sight and make sniping less powerful. But just a simple wall would be just as efficient and less resource intensive.
* Some areas look like they have scaling issues. I'll address that too. This is my first pass. I've only been working on it for 2 days.
Anyway, here is a video instead of screenshots.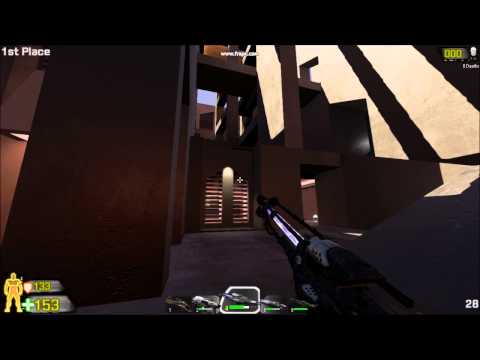 9/19/2014
Updated again.
*Improved flow by making areas more consistent in size.
*Removed possible snags from Lift Jumping.
*Improved lightingSorry no download link yet!!
*removed cluttered pillars.
*added some more strategically placed slope dodges and some dodge roll routes.