Download:
https://utcc.unrealpugs.com/content/282-CTF-HolyOak
205MB
(bottom of page under Versions)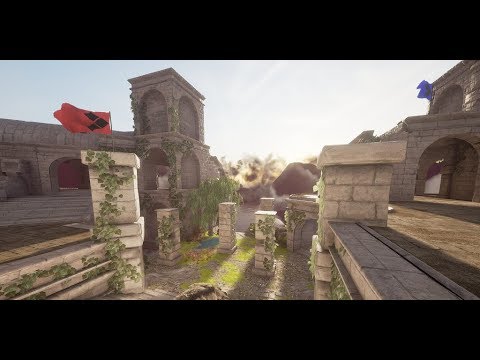 Hey, I've been working on this one for a while. HolyOak is a symmetrical CTF map set in old ruins. Each team's base is a little tight with few wide open areas. The flag is tucked into the back of the base with a quick escape route to the floor below. The midfield two primary routes, above ground and below ground. Above ground has a variety of paths with the belt in the center. Underground has more cover but fewer escapes and a Udmg in the center.
Design
Most of the meshes are custom assets. The primary mesh you see everywhere is the arch which was taken from the game's assets and modified into a few variations. The animated trees are from the Unreal Engine Marketplace. The remainder is mostly BSP converted to static mesh with added detail. I tried to keep the terrain relatively flat and easy to read for the player.
Performance
I manage to get a steady 60fps 1440p Epic settings using my GTX 1070, so it should perform a bit better than the stock Epic maps.
If you are playing using Low settings, be sure to go into Advanced video settings and turn up the foliage render distance to at least 50%. The default distance is so low that the foliage (leaves on the walls) doesn't render until you walk right up to it. This may work for grass, but it's very obvious when the foliage is on the walls.
Comments
I hope you enjoy the map! I am open to any feedback regarding layout, item placement, visuals, etc. If you hit a collision snag somewhere, or other major issues let me know. I'm planning to add some more polish to parts of the map.
More images can be found in this gallery:
https://imgur.com/a/kRQGT