https://utcc.unrealpugs.com/map/555-DM-Grotto?tab=view


Grotto was made to demo the door and key system but I've been told by a few people it's my best map. That's strange because it's also kind of a dumping ground for new stuff I'm working on. It started as a bit of a homage to quake one, with the idea being that it was an actual donut with no major routes through the middle of the map. If you want to get somewhere or cut someone off you go around. Works well in DM, untested for duel (what the idea was intended for). In practice, there are enough mini routes around the donut to keep things interesting.
It includes a jet pack pickup, which is pretty functional and nice but still has a few bugs. When picked up, you get 30s of fly time, which is not used if you don't fly. If you drop it, flying time remains. If you pickup additional jet packs, fly time is cumulative. So it won't be unusual that as the game goes on there are a couple of jet packs with a lot of fly time around the map. Fly with jump. Medium settings work best, as you can see some light from the jetpack flame which makes them an easier target.
Can see the map in action here. I've since made changes and updated the jetpack mesh.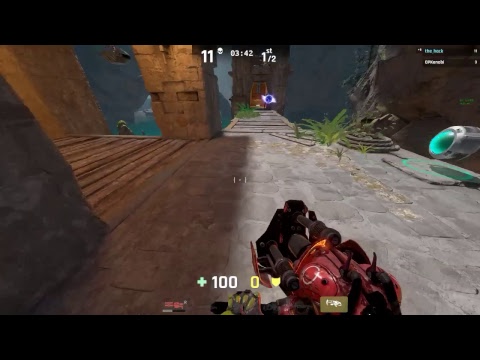 It also includes a door and key system, with having the key giving you a pretty nice edge on the map, allowing you to access a few routes/shortcuts, as well as getting amp. The key lasts 90s and spawns every 90s so there is always a key somewhere, and if you want to control it you need to be there when it runs out.
________________________
I've also uploaded the key BPs for folks to use on their own maps. I'll do the same for jet pack soon:
Hi. With the help of the modding channel folks, I managed to scrape together a key pickup and modification of generic proximity door.
To use:
1. Extract rar contents and play the "Key" folder in your content. Rename the folder according to the map you intend to use it in.
2. Rename each assets to be specific to your map. If you change something they will change everywhere (you can change the powerup settings for the base, inside the map, no problem).
3. Place a PowerUpBase in your map and select your key as the inventory type.
4. Place a Door into your map (make sure it's saved as a unique asset first.)
5. In the door BP, find both the node "K2 Find Inventory Type" (in the event graph). Set the type as BP_key_pickup_yoursuffix, depending on how you named it.
6. Do the same for BP_hud_have_key. Also make sure the texture is set to Key_Icon.
7. In BP_key_pickup, ensure BP_hud_have_key is set as the New Widget Class in the Add HUD Widget node. Make sure the the-key-2 is selected as the mesh in Components > Pickup Mesh > Static Mesh, and in Transform, set all relative 3D scales to 0.1. In Components > Key, ensure the_key_2 is selected under Static Mesh, and the holograph material is selected.
You could alter key pickups with colors to work with different doors. You can alter the door meshes, trigger box and opening distance as per their details panel in your map. Save with a new name beforehand!
The key included does not time out or respawn, but you will be able to make your own changes from the pickup base in your map.
https://s3-ap-southeast-2.amazonaws.com/utaunz/key.rar
You can try them out in my map DM-Grotto
https://utcc.unrealpugs.com/map/555-DM-Grotto
(you don't need the additional files, just the map pak)
The key mesh and everything else is either borrowed from the UT editor, or placeholder (or both) - so feel free to iterate as you please.
A look at the key/door system: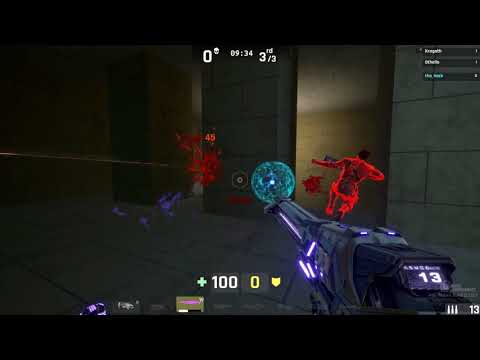 Possible uses:
- extra vials/health behind a door for the key carrier. be careful though, a key system will only strengthen control situations in duel. Consider using in place of other elements.
- alternative routes
- double item collection (eg need the key to collect the keg/udamage).
.