Hi ho!
I got started on a BT map for UT4.. getting the basics down with these blueprints and matinee's and such.. Good fun, great frustration
So I already made a couple rooms.. (you will recognise some of them from previous maps of mine, and the last one is based on BT-BuriedCityOfUr by Drunklove)
Screenshots: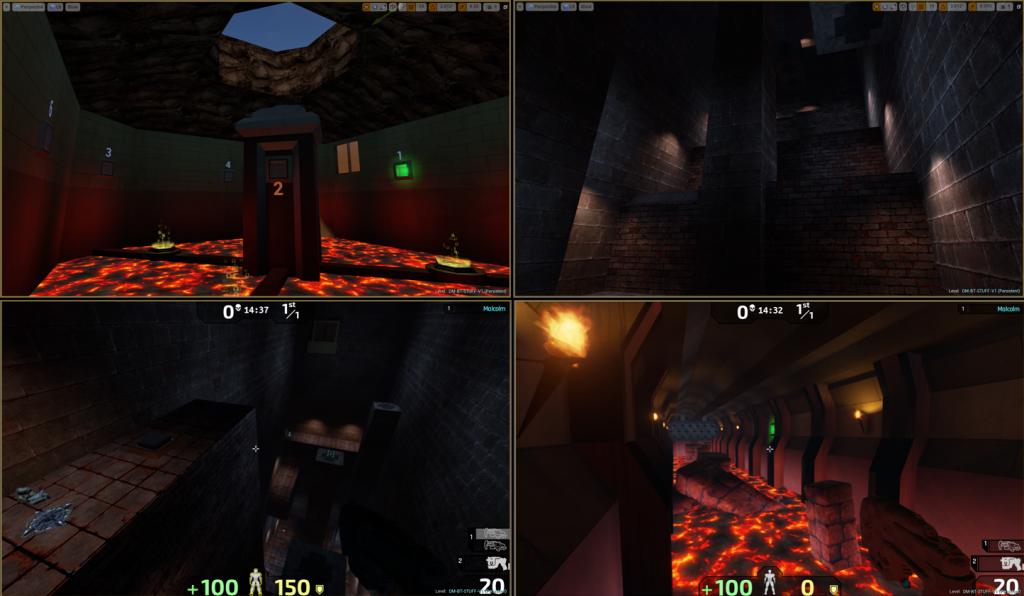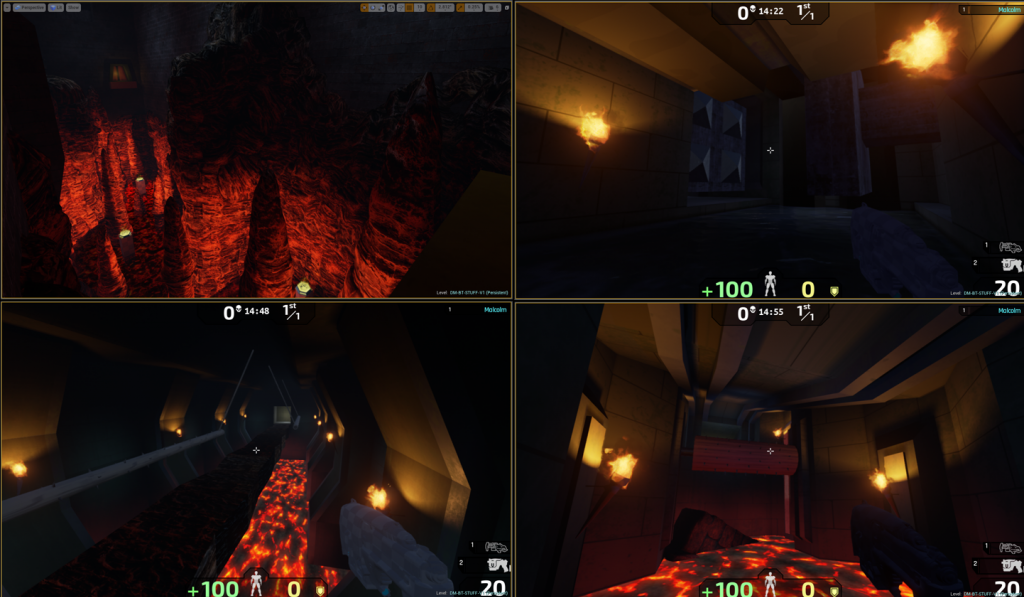 Fix list:
- Get sequence working in bouncer room, 7 shots ro do in certain order in a certain time. > then the bouncer will kick you higher.
Doing this in BP, but it's a nightmare for me.
Thx 2 Raste!

- Fix liftbug at cylinder room. (drunkloves movers)
- In general add alot of doors and buttons to open them.
- Fix collisions for the movers.
-
To Do list:
-
REDUCE FILESIZE!
>>>>
Previous V:

326Mb
>>>>>
Current:

289Mb
- Add Spawnroom
- Add secret room with a couple of important BT VIPS & Credit MugShots.
- fix the "FAILED!" Message at the Bouncer/shooting Range
- Figure out how to make the spikeroll rotate continuously. (and keep going up and down)
- Take out the hack where the Jumppad is attached to a mover and work out a triggerable jumppad.
- Fix general deathzones on movers.. They miss a Kill sometimes!
- Change all movers with TimeH Speedlifts.
- A Full on Collisions Pass
- A full on Lights pass (with post-process), Make it all a bit brighter and the whole visual clarity thing.
- Make some meshes! (All the spikerolls, All the crushers, Torches, Firesconces, firebowls, Targets, Buttons)
- Remove ALL Unused materials
- Sounds
- Soundtrack, (chosen: Seeker.umx)
- ....
Subject to change (even at the last minute)
- Timing of the obstacles (some can be tighter)
- Kill Shortcuts.
** Update **
V2 Released!
24/12/2014
Download V2.PAK
==> Taken Offline.
** Update **
V3 Released!
19/01/2015
Download V3.PAK
==> Taken Offline.
** Update **
V4 Released!
14/03/2015
Download V4.PAK
==>
http://shares.seventyseven.info/s#90...wsNoEditor.pak

Credits:
Raste => Button Sequence Blue Print
Raxxy & TimeH => Ze Germans who did ze coding. ! Big UP!
NATO & Clawfist, => because i bugged you guys non stop for small nitpicky stuff (like pivots and 12mb textures)
(Find yourselves in the secret room ^^ )