No Spawn Protection Mutator
Removes the spawn protection
This is a simple mutator to remove the spawn protection and/or configure
the spawn protection time per game mode.
Version: 1.0.12
Compatibility: built on Build 3525360 (7/12/2017; v0.1.12.1) [check the list below for more]
Type: Blueprint
Network version: 3525360 (CL 3525109)
Coded by
RattleSN4K3
Credits:
Epic Games
Key features:
No Spawn Protection for all game modes (by default)
Override the SpawnProtection time for any gamemode (and per game mode specifically)
Full compatiblity to other mutators (like Instagib Mutator)
Fully featured administration (except remotely)
Configurable via INI file
Configurable via UI (also in-game)
Configurable via Parameter (server startup line)
No replacement of Character, PlayerController classes (or anything)
Works for instant action and online games
Preview:
Gifv
;
VidMe
Config/ menu:
Simple / Advanced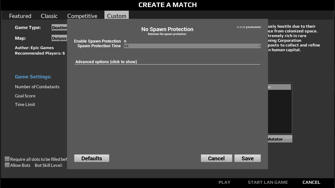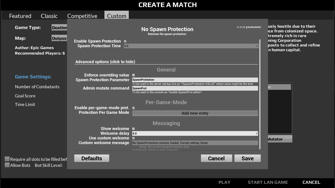 Per-Game-Mode setting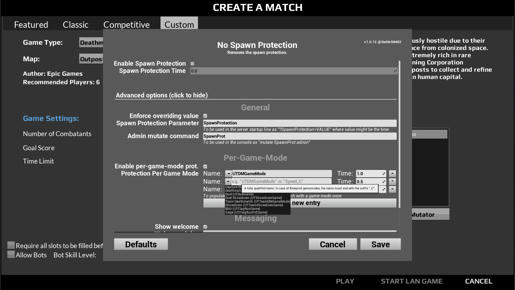 In-Game Admin menu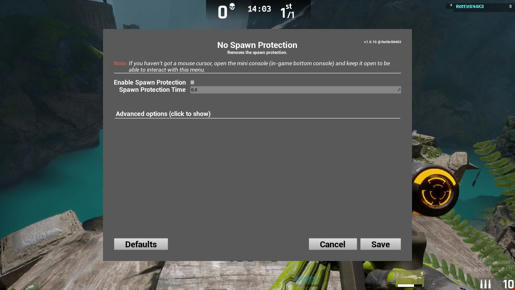 Download:
NoSpawnProtectionMutator_v1.0.12.zip
Read the Readme file for more information.
Known issues:
Minor: Hub configuration isn't possible (UT bug)
Fixed: Configuration is not possible (Engine bug)
Fixed: Custom message is not working
Changelog:
Compatibility list:
The mutator is currently only compatible to the latest release build 3525360 (7/12/2017; known as v0.1.12.1).
Any previous release would require an older version.
Older versions: