Force Pickup Spawn Mutator
Removes any spawn delay from pickups (including powerups, health, armor, weapon and ammo pickups)
Version: 1.2
Compatibility: built on Build 3525360 (7/12/2017; v0.1.12.1) [check the list below for more]
Type: Blueprint
Network version: 3525360 (CL 3525109)
Coded by
RattleSN4K3
Credits:
Epic Games
,
51synister
(request)
Comment: /
Key features:
Removes spawn delay from powerups, weapon, ammo, health and armor pickups
Removes spawn delay from weapon lockers
Removes spawn delay from any other custom pickups
Option to remove spawn delay per-pickup individually
Full compatiblity to other mutators, gamemodes, mods
Configurable via INI file
Configurable via UI (also in-game)
Configurable via Parameter (server startup line)
No replacement of Character, PlayerController classes (or anything)
Works for instant action and online/multiplayer games
Simplified hub configuration
In-game hub session configuration
Config / Advanced / Advanced 2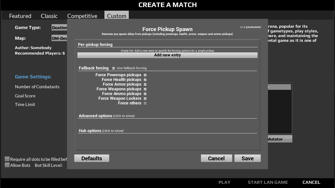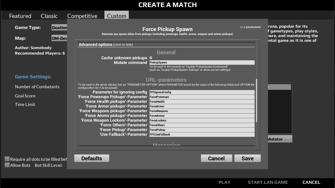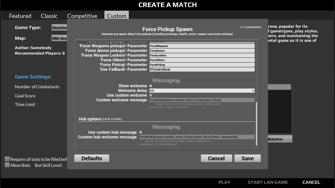 Individual per-pickup configuration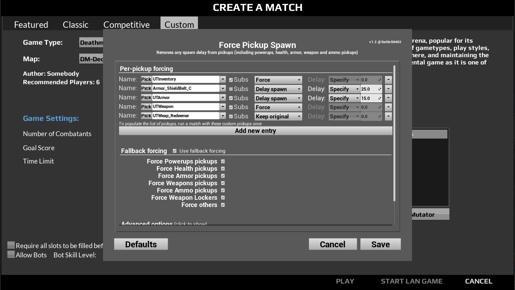 Class dropdown / picker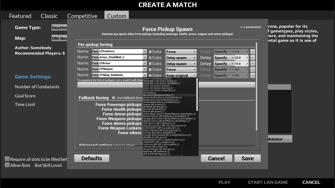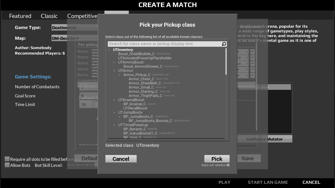 In-Game Admin menu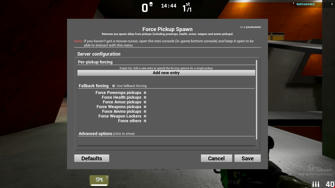 Hub Config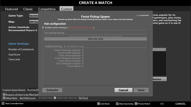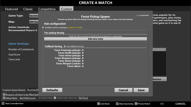 In-Game Hub Admin menu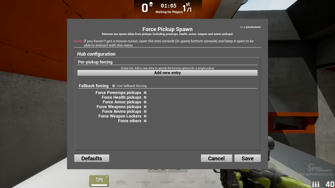 Download:
ForcePickupSpawnMutator_v1.2.zip
Read the Readme file for more information.
Known issues:
No known issues.
Future features / TODO:
Client menu showing server settings
Profile support (for manueal specifying, also Per-Game-mode/Per-map)
Changelog:
v1.2
In-game and hub administration, per inventory/pickup forced spawning (by class) and
initial delay adjustment
Added: In-game administration
Added: Option to adjust initial delay
Added: Welcome message inclues per-pickup options
Added: Pickup cache stored into config
Added: FPSUseFallback and ForcePickup URL parameter
Changed: Force mechanism, per inventory/pickup
Changed: Ignore URL parameter to "FPSIgnoreConfig"
Fixed: Config bug not loading saved values properly on map loading
Older changelog:
Compatibility list:
The mutator is currently only compatible to the latest release build 3525360 (7/12/2017; known as v0.1.12.1).
Any previous release would require an older version.
Version 1.1.6 is compatible and working with:
3525360 (7/12/2017; v0.1.12.1)
Version 1.1.5 is compatible and working with:
3510431 (6/28/2017; v0.1.12)
Version 1.1.4 is compatible and working with:
3395761 (4/18/2017; v0.1.11)
Version 1.1.3 is compatible and working with:
3395761 (4/18/2017; v0.1.10)
Version 1.1.2 is compatible and working with:
3361702 (3/28/2017; v0.1.9)
Version 1.1.1 is compatible and working with:
3315666 (2/22/2017; v0.1.8)
Version 1.1 is compatible and working with:
3270765 (1/26/2017; v0.1.7.1)
3266206 (1/23/2017; v0.1.7)
Version 1.0 is compatible and working with:
3193528 (11/11/2016)
3190340 (11/10/2016)
Older versions: