​Introduced in UT2003 as a new mechanic, adrenaline was something fresh and added some new flavor to the game. However many people didn't like this because it was unbalanced and the power ups you get from it were spamy in a certain way, most people claim that the only power up that were used was the booster wich was a health regenerator, much like the regen relic from UT99 but with a limit.
Once you get 100 adrenaline points you can perform 1 out of 4 (6 with a mutator) adrenaline combos: speed, booster, berserk, invisibility, pint size and camouflage, wich I'll be covering later.
One thing that made the Adrenaline Combos unbalanced was the fact that once you actívate them you could extend their durability by collecting more pills or killing other players, making the combos too overpowered. The lesser skilled players found themselves running around the map trying to get some adrenaline pills to fill the meter in an atempt to have a chance against more skilled players, with terrible results…
The problem with all of them in UT2004 was that they only beneffit the more skilled players making them more overpowered than before. However, I think that's not true, well almost, you see, if a player can take you down every 10 seconds and pretty much turning you into his/her personal ragdoll, chances are that with or without adrenaline they will kill you no matter what, so you really have to think about if you should be playing against players that are more skilled than you in the first place.
In order to bring back adrenaline, we need to stablish some rules:
1.-
Once you get actívate a combo, you can't replenish your adrenaline while the combo is active and you can't pickup more pills.
2.-
The combos should last a brief period of time and only give a small advantage.
3.-
It can be turn on and off given the players the option to choose to play with or without it.
4.-
We should be able to hide/show server that use adrenaline.
With thoses simple rules we can move on to what I think could be a balanced and fun mutator to play with.
Adrenaline Mutator
As a mutator it can be easily turn on and off and can be configurable so it becomes something more balanced and fair to any player. Of course, with some default settings so it can be used in regular and competitive matches if any.
This are the options that I think would suit best not only for a balanced game but also for a fun play. Remember that this options can be turn on and off and are configurable.
1.- Adrenaline through Pickups:
enabling this will make the pills appear on the map. The mapper can place them as they want and they will only appear if the mutator is active. If there isn't any, they will spawn at random places on the map.
There are different pills that can be used, from the UT2003/4 we have the regular pills, they add +2 adrenaline. From UC2 we have 2 more, one adds +20 and the other +100. We can add different values and colors to the pills so we have variaty, they could add +2, +5, +10, +20, +100 from common to rare respectibly.
2.- Adrenaline through Kills:
each time you kill someone it will add +5 to adrenaline. You can set any number from 1 to 100, default is 5.
3.- Adrenaline through Actions:
this will only work if you are on the move. As long as you're moving, jumping, dodging, picking up weapons and power ups, you will get +1 every 2 seconds (3 minutes 20 seconds for full adrenaline). With this, players can focus more on the combat and less in collecting pills, also the not so skilled players can have a chance since eventually they'll get 100 adrenaline and so, getting some advantage over skilled players.
You can play with the values, moving will add +1 every 2 seconds while picking up ítems, like new weapons and power ups will add +2 (or +3) instantly.
Moving in the same spot would not count, so campers would not get adrenaline.
4.- Adrenaline through Time:
a constant regen of adrenaline overtime without doing anything. It could be +1 or +2 per second.
5.- Adrenaline through Multikills:
each time you get a double kill or multi kill, etc, you get an extra +1 for each consecutive kill.
6.- Adrenaline through Sprees:
each time you get a spree (killing spree, rampange, etc) you get an extra +2 or +3 for each one of them.
7.- Adrenaline through Awards:
a feature from UT2004 and UT3, when you kill 10 players with the same gun you get an award (flak monkey, rocket scientist, etc) each award will give you +10 since those are somehow more difficult to get because you are constantly switching weapons.
8.- Adrenaline through Score:
this apply to objectives or other meaningfull actions, taking for example CTF, you can get adrenaline for capturing the flag, returning the flag or denying a capture. In Warfare you can get adrenaline by taking enemy nodes, using the orb, etc.
9.- Adrenaline through Style:
this a las minute entry but you can get extra adrenaline by killing other players with style, i.e killing them while you, or them, or both are in the air, pushing them into a hazard or cliff, stomping them (if landing on top of another player causes damage) or any other type of fashionable death. Something like Bulletstorm kinda way.
10.- Full Adrenaline:
because why not? I listed 9 different ways to get adrenaline, let's complete the circle with something , right? You start with 100 adrenaline and once you start a combo it will be go down to 0, once depleted you get 100 adrenaline to use right away. Because of reasons.
Now for the most important part of adrenaline, what to do when you get 100 AP.
First I though about a little boost in your speed and jump height, it make since you are full of adrenaline, if you suicide you lose some adrenaline, perhaps -5 or -10 so you no longer have the boost. Another thing related to movement is to enable other moves that you don't get with the standard move set, either way the player have to choose if they keep the boost or use the adrenaline for a combo (and no longer get the extra stuff). Something like this should be off by deafult until we get something to do with 100 AP and without activating any combo.
And speaking of combos, the ones that were in UT2004 were:
Speed:
it doubles your movement speed, making you go faster and jump longer distances. This one is the most consuming of all since it depletes your adrenaline quite fast, it only last a few second before reaching 0, making it useful for those CTF scapes or getting faster to a control point.
Booster:
it regen your health by +5 every second until you get up to 199, after that your armor start to regen at the same rate.
Berserk:
it doubles the fire rate of your weapons, but also depletes your ammo twice as fast.
Invisivility:
makes you partial invisible, not much tos ay here.
Pint Size:
this one was more for the lulz, it shrinks you to the size of a toe, but not your weapon, pretty hillarious if you ask me, you were harder to hit but spalsh damage will get you faster.
Camouflage:
This one takes the cake of jokes, it turns you into a piece of world geometry, a boulder or a structural ornament, a static mesh. If players don't know the map you can sit there an wait for them to pass by you and ambush them. (but who wants to camp while you can kill players as a giant rock or a cinderblock with legs?)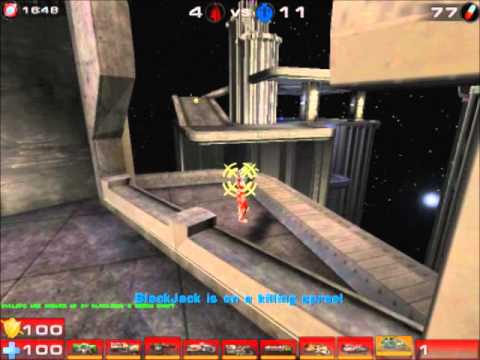 Now, this combos were converted to pickups ups, so there's no need to implement them, however, if they get implemented, the time should be lesser than the pickup.
As for new combos,
there are many thing that we can experiment with, for example:
Arsenal:
gives you all standard weapons, from a second enforcer to a sniper rifle (including ripper and lighting gun because of reasons) with default ammo. While this combo is active you can't pick up ammo or weapons, so you have to manage your ammo untill the adrenaline reach 0.
Orb:
it summons a orb that fires at enemies for a period of time.
Vengence:
most like the relic with the same name in UT99, if you get killed while this combo is active you'll turn into a nuke blast, Suicides doesn't count.
Decoy:
creates a copy of your character that will run around in the map, it does not attack and destroying the decoy will produce a small explosion, any player that is cough in the explosion will give a point to your score. It will instantly deplete your adrenaline and you can't get more until the decoy is destroyed. Destroying the decoy does not count as a kill.
Reinforcements:
summons a bot that will support you in battle, you can give him orders like you would in a team based gametype with bots. This bot can and will attack enemies and any kill he gets counts to your score or the team score, he doesn't show in the score screen, and killing him counts as 2.
Spy:
it changes your color team to an enemy one, to your team you will look the same, except that now you have a beacon indicating that you are in disguise, the opposing team will see you in the same color as them, it has a time limit. Shooting or taking damage reveals you. For use in team gametypes only, no use in DM.
There are several others that were not included in the final product but looked interesting, also Unreal Championship 2 gave more importance to the adrenaline abilities making them an escential part of the gameplay unlike UT2003/4. You can read more about those here:
http://liandri.beyondunreal.com/Adrenaline
And of course,
as a mutator
, you can customize what combos you want aviable.
Adrenaline can be a lot of fun if implemented in the right way and it has a lot of potential for casual, regular and competitive play. I know that right now there are no plans of adding this feature, however I hope this post helps to get it in the right tracks for a future consideration or if any would like to experiment with adrenaline. Also, there could be gametypes (mods) based around adrenaline, for example, you can only score points if you have a certain combo activated or one where you are always losing adrenaline and the only way to score points is by keeping it at 100 for the most time.
Anyways, this is just a concept and I hope it helps and I would like to see those pills again.