The one primary thing that I've always found weak in Unreal Engine 3 was very limited options for using gravity in creative ways.
I've always wanted to take UT3 to the 'next level' and I'd like to hope that the programmers at Epic could make my dream a reality for the new Unreal Tournament and give us 2 new actors that manipulate gravity and player orientation within the game.
What I suggest below will add a whole new dimension to gameplay in Unreal Tournament allowing level designers to reach new heights in creative level building. I believe it will also completely separate the new Unreal Tournament from all other multiplayer shooters on the market! Now with the realm of VR we can truly take players out of this world and change their perception of which way is up!
Now that the all big hype statement is done, if Epic are able to create the two actors I describe below I believe we could all be in for a treat!
Here's a quick pic of what I mean: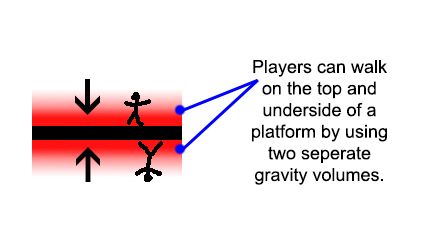 Please enjoy all my crappy pics below!
Gravity actors
Effect:
Pulls a player towards a surface whilst also changing their orientation so their feet are always closer to the gravity source.
The gravity has a fade distance (out to the global gravity setting) so the player is able to escape the gravity zone if required.
Actors
Gravity point:
Similar to a point light except it creates a gravity field pulling players towards a central point!
Usage:
Mainly for embedding within other rounded actors so players can walk around all surfaces.
Example:
Create walking surfaces on asteroids and cylinders.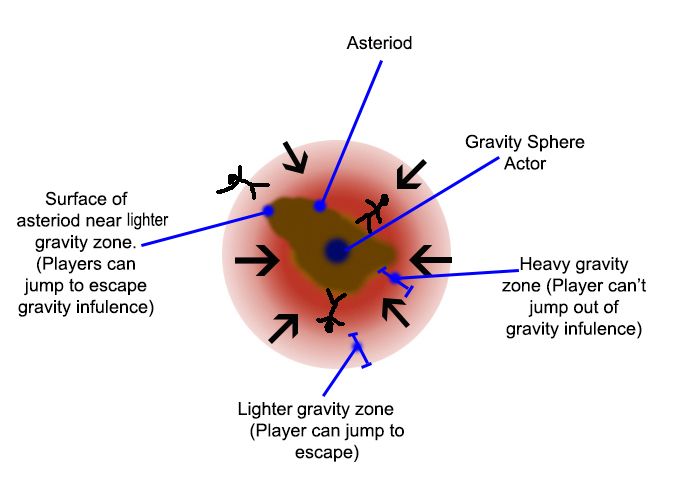 Gravity Volume:
Is like other volumes except one side is the 'attraction side' that pulls the player towards it. The attraction side also determines the player orientation.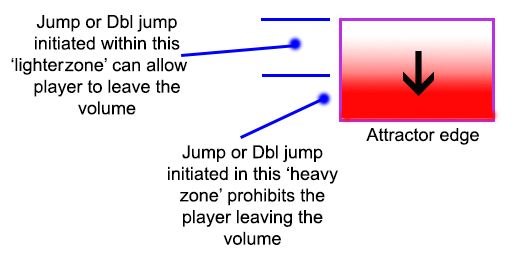 Suggestions on implementation:
In the event of an overlap of volumes the volume that has most of the player in it takes priority. In the event two volumes have an equal amount of the player object in them then the volume priority is used.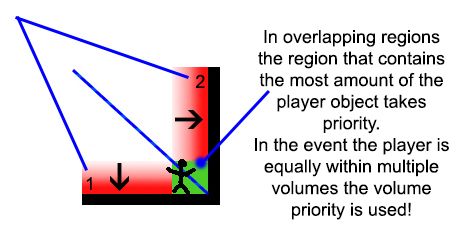 A heavy zone could be used where if the player initiates a vertical jump within this zone they cannot leave the gravity volume. Players can exit volumes if they have enough momentum to get most of their body out of the volume.
With right angled situations players jump into the volume so their orientation is changed.
Outside of a gravity volume players are affected by the global setting. If the global setting is 'zero gravity' players continue moving at the same velocity and direction they were at when leaving the volume.
Level Design considerations:
Use of objects and static meshes to allow the players to leave volumes.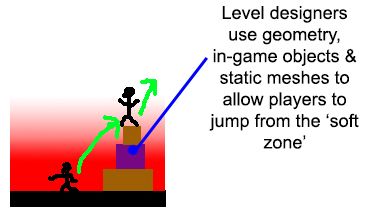 For non-round surfaces use multiple gravity volumes rather than a gravity point actor.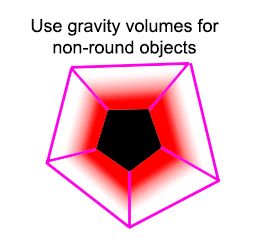 If global gravity is zero, manage floating players!
Use Jump pads to get players topside to underside.
Below are examples of level layout taken from a side view!
Hope you guys find this possibility as interesting as I do!