Dear Epic Games,
My initial, and currently only desire/plea, is for a
fast, team-based, soccer-like gametype
similar to UT2004's Bombing Run to be remade/re-created(by Epic).
Bombing Run
has a substantial amount of speed and
tactical/strategic depth
that isn't found in any other gametype. There's a ball, 2 goals, 2 ways to score(3 points for shooting the ball into the goal, 7 points for carrying the ball into the goal). There's passing, offense, defense, midfield; play it any way you like! But to score, you must
play as a team
, and focus on
moving the ball
to the goal(passing and receiving to/from teammates), instead of simply trying to
kill
the other team by yourself. Timing and coordination/strategy are more important than aim here! A strong defense(aim) can be very useful, of course, but strong offense is what scores goals.
A day to learn; years to master
- no brainless deathmatch here!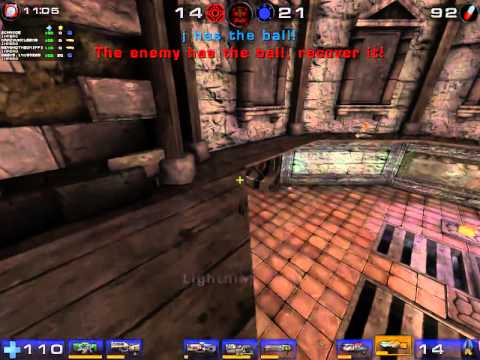 (High-res video download link
here
)
Here are some more
Bombing Run videos
, to show you how it works:
UT2004 Bombing Run Tutorial Video
Sinatra
Mardok Special
DM'er N0niz' Twitch.TV
* * * If you want to see the return of a gametype like
BOMBING RUN
(or an exact remake!), please
post your thoughts here, and keep this thread alive
!
* * *
VOTE FOR BR
in the poll
here
! (choose only BR for maximum poll impact
)
* * * If anyone wants to
PLAY BR
(or make new maps!) with us,
here
is our forum, and the
UT2004 BR server
name is
CrazyUncleBob
(Texas, US), and "corny'sUT2004ServerBR"(Deutschland, Earth). Bob's @ 10PM EST every Tues/Thurs/Fri/Sun, Corny's proserver Sunday's(and maybe Wednesdays?) exclusively(pros ONLY). See you there!