Hello Everyone!
TAM, which stands for Team Arena Master, is a casual gametype, which was created by the UT2004 community, which combines the elements of Team Deathmatch with Last Man Standing.
In this gametype, there are 2 teams. Each team must win 10 rounds in order to be victorious. To win a round, a team must eliminate all opponents. If you die, you are out for the round and must wait for the next one. Each round has a 2 minute clock that counts down. When the timer reaches zero, players lose an amount of HP and Armor every 5 seconds until a victor is decided.
All players spawn with the same amount of HP and Armor unless tamdicap is enabled in which the winning team spawns with less HP and Armor than the losing team.
All players spawn with all weapons, excluding the super weapons and weapons found in Onslaught. The weapons players spawn with are as follows: Shield Gun, Assault Rifle, Bio Gun, Shock Rifle, Link Gun, Minigun, Flak Cannon, Rocket Launcher, and the Lightning Gun. Players may have all the weapons but each weapon has a limited amount of ammo and there are no pickups in the game to replenish the ammo.
The FREON Gametype is TAM + Freeze tag. If you die, you are immediately frozen. Your " Thaw " status starts at 0% and ends at 100%. Every second you gain 1%. If a teammate stands near you, you thaw faster. If more players stand near your frozen body, you thaw VERY QUICKLY.
Here is the TAM Gametype in Action: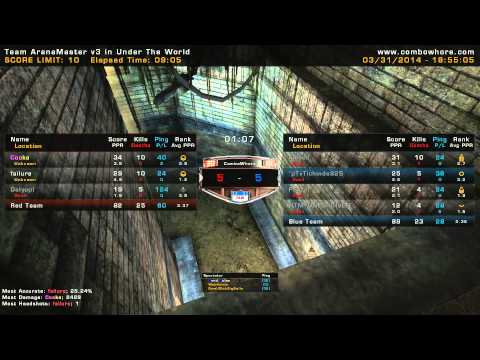 And here is the FREON Gametype in Action:
http://www.youtube.com/watch?v=eMMqIJSjzpg
All of us who play TAM / Freon would love to see this gametype in Unreal Tournament! Please make this happen!
P.S.
This video I created was made via TAM / Freon:
http://www.youtube.com/watch?v=t9Zv3eqWT1Q
---
EDIT
:
In terms of competitiveness, 1v1 DM, TDM and CTF rule supreme.
In terms of casual gameplay, TAM works and you do get those small breaks in between rounds.
You spawn with all the weapons and can practice shooting and moving about rather than taking up a server and not readying up.
There will always be hardcore 1v1 DM, TDM, CTF, etc.
If TAM is included as a gametype, it will no doubt be one of the most popular gametypes due to how casual it is.
Being a causal gametype, it would draw in more players making UT popular. We want more players right?
This wont make the other gametypes any different. Those who want to play those gametypes will play them.
TAM should not be the focus of Unreal Tournament but it should be included.
This is all coming from someone who hosts 5 UT2004 1v1 DM Servers.
I dont host a TAM server because the best games to watch are the hardcore ones. The casual games are there to have fun, but 1v1 DM is serious business.