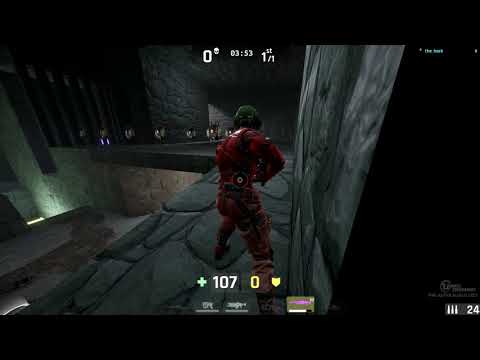 Not sure where to put this, but I made it with larger scale gametypes and maps in mind (CTF, BR, FR).
Introduces a jetpack, which imparts vertical force when holding space. There are a few little bugs regarding the actual jetpack (light from flames becomes displaced as the jetpack is dropped/picked up) (random jetpack mesh appears in middle of the mesh between a jetpack being dropped/picked up), but overall it's in a very usable and enjoyable state.
Thanks to Mogno who provided an awesome Jetpack model!
If you load this mutator, the smallest armor in a map will be replaced with jetpack (or any number of then, for example, two small armors will be replaced by two jetpacks )
The Jetpack spawns every 90s and is not delayed (spawns at the start of the match). You can pickup additional jetpacks to add to your fuel/fly-time.
Balance
Yes, effort has been taken to make this pickup work with the rest of the game. It's not a case of pick it up and fly around without restriction racking up the frags. We tested this and it was a bit tiring. The amount of impulse imparted, spawn delay and jetpack fuel have been tweaked so that the player must use it sparingly and intelligently to get the most out of it. He/she can spam it for movement purposes and run out quickly, or keep it in reserve for when they need it, up until the next spawn. Having to monitor it's use makes it more fun in game.
It's also fun in 1v1, although I'm not suggesting for competitive duel (obviously, I don't want to be mocked), in that jetpack fuel tends to get accumulated into one jetpack, making it more of a tool towards the end of a match.
Realistically, collecting the jetpack might help you escape one or two sticky situations, and get one or two advantages before it runs out. It breaks map flow, but not in an unlimited way.
https://utcc.unrealpugs.com/content/652-Jetpack
put in ...\Documents\UnrealTournament\Saved\Paks\DownloadedPaks
For server admins, mutator path=Jetpack4
Here's a DM ruleset to reference, the important part is mutator in gameoptions
The below video is an earlier prototype before further balancing