uForts is a blend of base building and FPS. The game is split into two phases, the Build Phase, and the Combat Phase.
This mod does not play like UT4. It is a full mod, not just a gamemode.
Build Phase
During the build phase players must construct a base using the blocks provided from the build menu, opened with F.
(Here is a short video explaining the basics of building a wall.
https://youtu.be/xfogU5thKGg
)
There is no direct way to rotate blocks. One of the skills involved in playing uForts is mastering the ability to manipulate blocks using the gravity gun.
Blocks must be frozen using R, this prevents them from moving and will prevent the enemy team from entering your base.
Combat Phase
In the combat phase players are given weapons based on the class they pick.
The gameplay is now regular capture the flag, except the defenses have been built by your team out of blocks.
Players are able to damage blocks, although they will take some time to break as they have 4000 health when frozen, or 1250 when unfrozen.
The engineer class is given a gravity gun during the combat phase which allows them to unfreeze walls by holding R and facing a wall. This takes time to complete.
The game runs for 2 build phases, and 2 combat phases. At the end of the second combat phase a winner is announced and the map will change after 15 seconds. There will be a score-screen added later in time.
Controls
Until mods can setup custom bindings, what things are bound to is set in stone. If there is a conflict with one of these keys and your own personal bindings, I suggest you unbind them while playing uForts.
[F]
Build Menu
[SHIFT]
Sprint
[X]
Drop Flag
[ , ]
Class Menu
[R]
Freeze / Unfreeze

[Right Click]
(Gravity Gun) Pull / Grab / Release Objects.
[Left Click]
(Gravity Gun) Toss / Push Objects
[M]
Vote to skip phase menu (Only Available in Build Phase)
[Q]
(Engineer Only), Grenade Launcher.
How To Play
Right now I have no way of hosting a server easily. I'm talking to someone about getting a dedicated server going, but until then it can't really be played.
If you are interested in hosting a server please get in contact with me on here or through steam.
Here is a relatively old video of some pesudo gameplay done in-editor.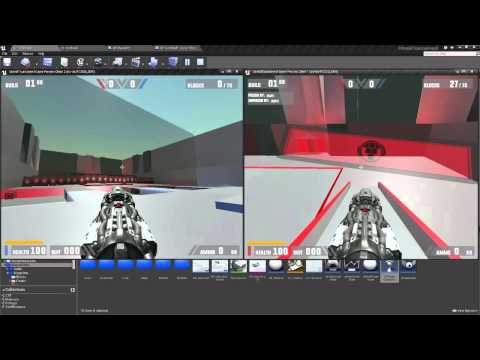 Keep in mind during this video blocks only have 200 health for testing purposes.
Currently there are 3 Maps available,
UF_Skywalk
http://puu.sh/ifihv/6abd793d49.png
UF_Overload (Shell)

and
UF_Astrodome
(Shell)
Interested in seeing my blueprints?
PM me on the forums, add me on the epic games launcher, or add me on steam.
Want to help?
We're a two man team right now, me doing blueprints and another guy doing art (hud / meshes / level design). Literally anything would be helpful, so feel free to pm me or post here.