Before going into everything, just want to include:
I'm a novice coder (mostly self-taught). Combine this with the fact that blueprints are a bit limited at the moment, I had to resort to a lot of workarounds (...and I mean A LOT of workarounds).
I had no prior knowledge of blueprints before starting this, so if you try picking thru the blueprints... your head might explode (you've been warned ). My recommendation: PM me if you have any questions about how something was done.
The map: The test map is NOT my map. I simply tweaked/re-purposed it so it would work better for this gametype. I would love to give credit where credit is due... but I pulled this thing off google and honestly have no idea where it came from (gotta love the internet). All I know is that it was a UT99 assault map (maybe Unreal Fortress?). If anyone knows who created this map, please let me know. I'd definitely like to give him/her credit.
Now with that out of the way
...
Attack and Defend
There is one flag and two teams; one attacking and one defending. The
Attacking Team
is tasked with pushing the flag through each section of the map to reach the final capture point. The
Defending Team
is tasked with stopping them by killing the flagrunner and defending the flag while it is on the ground. Anyone who has played Team Fortress Classic (TFC) will be familiar with the gametype. For those who have not played TFC (or may not remember), the following video gives you a good idea of what it's all about:
https://www.youtube.com/watch?v=NYW7QcLcYYI
" data-vcode="NYW7QcLcYYI" data-vprovider="youtube" >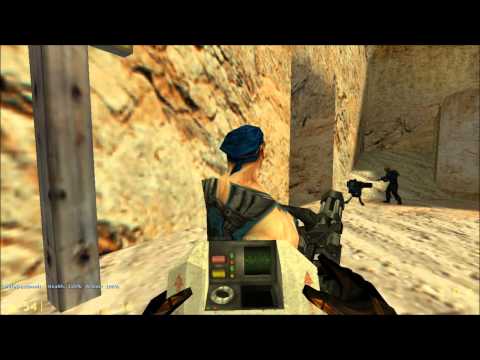 Things worth noting:
Flag cannot be returned by touching it (Once dropped, a reset timer will appear above the flag letting both teams know how long before it returns. Return time currently set to: 45 seconds).
Checkpoints are included, but unlike TFC's version.... checkpoints do not reset each team to begin a new phase of the map. Instead, once a checkpoint is reached, there is a brief countdown before the doors open to advance. Both teams will remain in play during (and after) the countdown.
Right now rounds will not end until the Attacking team scores, meaning there is no real way for the Defenders to "win". The current version is more or less a proof of concept, so you'll have to bear with me on this one. The first thing I plan to add is a true end-game .
Screenshots:
See attachments below
Download:
Pak (for testing, includes AnD-Dustbowl map)
Download
Attack and Defend Assets (for mapping)
Uassets
Download
Dustbowl Umap
Download


Installation:
Pak Installation:
Drop .pak file into "...\UnrealTournamentDev\UnrealTournament\Content\Paks" Folder & then launch in-game
Uassets and Umap Installation:
Drop folders into "...\UnrealTournamentEditor\UnrealTournament\Content" Folder
Note: If you're looking to open the Dustbowl map in the editor, download/install both the Umap and Uasset folders.




Planned Additions/Changes:
Time limits - Attackers will be allotted a certain amount of time to complete each phase of the map. If Attackers cannot reach the checkpoint/capture point before time runs out, Defenders score.
Onscreen text/notifications – Current notifications are strictly via sound/audio. Text will also be added to notify players of in-game events.
HUD Elements – The current version is using the base CTF HUD. I plan to add elements relevant to the gametype (i.e. countdown timer, flag reset timer, map progression, etc).
Other things I'm considering changing/tweaking. Would like to hear people's feedback on these:
1. Doors - Keep the doors, remove the doors (i.e. Assault style), change them to shields, etc??

2. Resetting Teams - Should teams (or just the defending team) reset after a checkpoint is reached (i.e. like Team Fortress Classic)? This would make map progression seem more round-based, instead of continuous like it is now.

3. Flag Resetting – Should the reset time be longer, shorter, etc?

And for those interested in creating maps...
Quick Mapping Guide:
All placeable actors are found in the main folder (these are the only ones you need to use). Be sure to read the descriptions of the variables associated with each actor to understand how they work/function.
Things to know:
Build your map with Red being on offense (index 0) and Blue being on defense (index 1).
IMPORTANT: Always use "UTTeam Player Starts" for intial/starting spawn locations. The SpawnOffense_Red and SpawnDefense_Blue actors are strictly for checkpoint spawn locations (players cannot spawn at them until the corresponding checkpoint is reached).
Checkpoints are completely optional, meaning you can create a map without any checkpoints at all.
Breakdown of Placeable Actors:
FlagSpawn (required) – Self-explanatory. This is where the flag will spawn at the start at the match.
CapturePoint (required) - Self-explanatory. This is final objective that the Attackers are trying to reach.
StartGate (required) - These are the shields/forcefields that hold the attacking team at spawn before the match begins. Their deactivation time is set within the FlagSpawn actor. Their purpose is to give the Defenders time to set up.
SpawnDoor (optional) - These doors restrict a certain team from entering/exiting (mainly for spawn rooms, but can be used anywhere). If being used with checkpoints, be sure to check off the appropriate "checkpoint" variable.
Checkpoint-Door(optional, but recommended if using checkpoints) - Used to block access to portions of the map. Will Remain closed until the corresponding checkpoint is reached. Like SpawnDoors, be sure to check off appropriate "checkpoint" variable. Will not open otherwise.
Checkpoint1, Checkpoint2, etc... (optional) - These are the checkpoints that Attackers need to reach to progress thru the map. Note: "Gate Delay" variable can be used to delay when checkpoint doors open (gives Defenders extra time to set up).
SpawnOffense_Red, SpawnDefense_Blue (optional, but recommended if using checkpoints) - represent locations that spawns will be moved to once a Checkpoint is reached. Remember: Do not use for initial/starting spawn locations.
WeaponBase, ArmorBase, PowerUpBase (optional but recommended) - Allows you to limit weapons/powerups to certain sections/phases of the map. Be sure to check the appropriate variable for these to work.
ResetFlag_Zone (optional, recommended for maps with unreachable locations) - Because a custom flag is being used, this zone is needed to reset the flag when it drops into a void/unreachable location. KillableZ will not reset flag like it does in regular CTF.