OUTDATED!
Update: Added working

(hopefully)

mutator. Feedback would be nice, as of now this post has 156 stalkers and not a single reply
.
Hello all,
There is lots of throat biting concerning the movement of new UT so why not throw in some more carnage
? Here is the new Default character that I tweaked while thinking that: 1) UT movement should be snappier; 2) vehicles inevitably will be implemented; 3) base movement mechanics defines balance of weapons and vehicles; 3) current hitbox size and handling of headshots is a mean joke. [SIZE=3]
Download mutator:
Links: Outdated! Installation: 1) Download file. 2) Put it into
C:\Users\username\Documents\UnrealTournament\Saved\Paks\MyContent
. 3) Test in game or server. Meanwhile, please find attached somewhat crappy video that demonstrates how this Blueprint performs in ScaleMap (for those who don't know, you can find it in
\UnrealTournamentEditor\UnrealTournament\Content\RestrictedAssets\Maps
):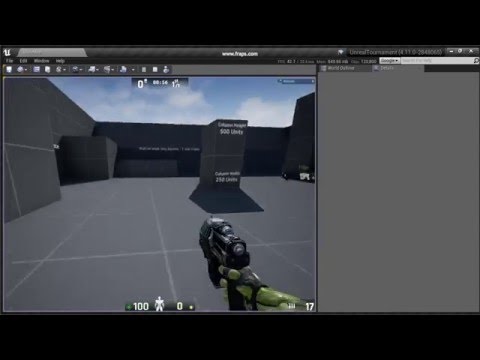 Notable differences in comparison with default movement:
1) Gravity that affects player has been increased. 2) Tighter hitbox, smaller headshot circle. 2) Wall dodge is the most powerful and fastest movement (besides falling
). The logic behind this is that kicking off the wall should give more power and impulse than kicking off the horizontal surface. Combine dodge/walldodge/floorslide and mouse seizures for maximum weeeeeee effect. 3) Dodge slide tuned down. 4) Sliding now significantly reduces falling damage (by 10 hitpoints) (like parkour style fall into roll). 5) Movement speed is 1000 and sprint speed reduced to 1200. 6) Sprint now kicks in quickly instead of long delay.
Notes:
1. Hammer jump needs tweaking (maybe). 2. Rocket jump needs tweaking (maybe). 3. Some lift jumps and Jump Pads may be broken. Jump boots need more power. 4. 2/3 dodge bug fixed. 5. Weapon bob has to be tweaked per weapon (Enforcer and Bio Rifle moves around too much, Shock Rifle and Sniper - barely). It actually gives a notable difference in how the movement speed is perceived. 6. Swimming needs some tweaking too.