>>>DOWNLOAD HERE (Sequencer v10)<<<
(Download Link last updated: Dec 17 2015.)
LATEST VIDEO UPDATED April 27 2015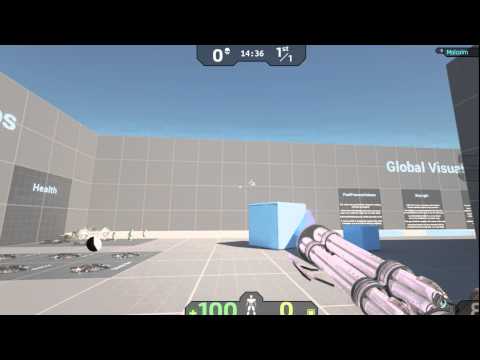 Features of featured Prototype:
Primary Fire: Rapid fire of tarydium-tipped bullets
Alternate Fire : Cyclically loads up to 9 barrels with unrefined tarydium shards. On release will discharge the shards sequentially at low velocity.
Discussion
One of the weapons that to me has never really lived up to the ideals of imaginative and creative weapons in Unreal Tournament is the Minigun. For UT, UT2003, and UT2004, the gun basically had "Fire Fast" and "Fire Faster" as firemodes. The UT3 approach of mixing in "Stinger" flavor with the Minigun was great from a lore perspective but didn't do much to improve the mechanics of the weapon because no one really had any fun or unique ideas for the alternate fire even then.
I've been tossing around a few ideas for improving Stinger functionality for awhile now, and since I noticed one of them has made it into the build this week I figured it'd be a good idea to make a thread to start iterating on ideas for making the Stinger/Minigun more interesting.
---
Idea 1
: Stinger Wall Shards
This was an idea that I had been bouncing around in my head for awhile. When I was talking to Steve and Raxxy at the Nov. Epic event, I floated this one and it got a really good reception. So I went ahead and made a prototype the next day. The basic idea here is using the Stinger alt-fire projectiles to build a temporary ledge that can be used for climbing or traversing gaps in terrain. I have not publicly shared this until now since I think this needs a substantial balancing factor. I think the basic idea is that once you step on the shard, it destabilizes and will explode (causing damage) as soon as you jump off.
Idea 2
: Stinger Charged Sequential Burst Fire
This second alt-fire idea one isn't anywhere near as dramatic in terms of functionality, but simply adds some twists to the usage of the secondary fire. Inspired by the current Rocket Launcher alt-fire. I felt like the ideas behind the current Rocket Launcher alt-fire, namely a rapid-fire sequential salvo of projectiles, sounded more characteristic of an actual rapid-fire weapon, e.g. Minigun, than the Rocket Launcher. As it turns out from the video, this mode looks and feels quite natural on the Stinger Minigun. Overall balancing factors of numbers of projectiles and properties of the projectiles would need to be worked out, but to me this looks and feels way more satisfying than the current pop-rock dispenser alt-fire.