>>>DOWNLOAD HERE (Rebel v10)<<<
(Download Link last updated: Dec 14 2015.)
VIDEO UPDATED May 11 2015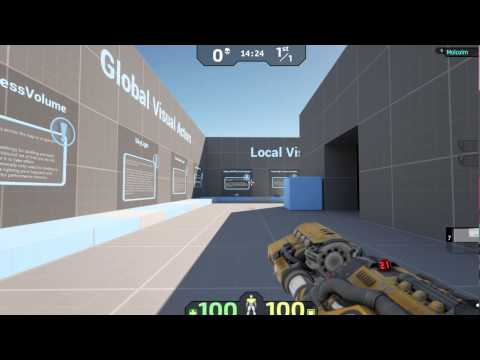 Features of the Rebel Flak Cannon:
Primary Fire : (Flak Standard) Shatters flak shell and expels shrapnel from the barrel
Alternate Fire : (Flak Standard) Lobs an explosive flak shell forward in an arc
Discussion
The Rebel Flak Cannon is intended to be a hybridization between the UT99 and UT2004 Flak Cannons. Lore-wise, the weapon presented here is supposed to be a replica of the original Flak Cannons used in the Green's World Rebellion of 2267.
The overall behavioral differences with the UT4 Flak Cannon are:
Decreased Primary Fire shard damage (18 -> 13)
Decreased Primary Fire refire delay (1.0 -> 0.89)
Increased Primary Fire shard starting positional offset
Decreased Primary Fire shard spread angle
Flak shards have random chance to not bounce effectively
Flak shard velocity off of bounces reduced
Decreased Alt Fire shell damage (100 -> 90)
Increased Alt Fire shell radius and momentum
Reduced Flak Shard visual size (0.35 -> 0.25)
Reduced Flak Shard pawn overlap sphere size (10 -> 6)
At some point I will be making some faithful UT99 and UT2004 variants, but for now I'd like to get some feedback on the Rebel variation as this is geared towards making the Flak function & feel 'right' in the context of the pre-alpha currently.
---
Installation & Playing Instructions
There are three main ways that the Rebel Flak Cannon can be played with.
Download and play the Weapons Testing Arena that I have created (Direct download to map). The Weapons Testing arena is a version of DM-ASDF that features some of my custom weapons. Simply load up the map and play. On this map, the default UT4 'Flak Cannon' is replaced by the Rebel Flak Cannon. Recommended for offline players & testers!
Download the custom Mutator Rebel Flak Cannon Replacer that I have created. This mutator replaces all default UT4 'Flak Cannons' on a level with Rebel Flak Cannons. Recommended for Server Admins!
Utilize the built-in "Weapon Replacement" mutator to replace another weapon of your choice with the Sapphire Shock Rifle. To do this, first place the downloaded weapon pak into your "UnrealTournamentDev/UnrealTournament/Content/Paks" directory. Then run the game and configure the Weapon Replacement mutator, selecting the weapon you'd like to replace with the new weapon (Rebel Flak Cannon).
Server Parameters:
Code:
?mutator=/Game/RebelFlakCannon/Mut_RebelFlakReplacer_v10.Mut_RebelFlakReplacer_v10_C,/Game/TridentRocketLauncher/Mut_TridentRocketReplacer_v10.Mut_TridentRocketReplacer_v10_C,/Game/StingerSequencerMinigun/Mut_SequencerMiniReplacer_v10.Mut_SequencerMiniReplacer_v10_C,/Game/SapphireShockRifle/Mut_SapphireShockReplacer_v10.Mut_SapphireShockReplacer_v10_C,/Game/RestrictedAssets/Weapons/Ripper/Mut_RipperReplacer_v10.Mut_RipperReplacer_v10_C
As always please let me know if you have difficulties getting this working, find bugs, or just want to give feedback on the weapon.