All about...
There are some unknown issues about priced content on the marketplace. Priced content can include maps. There is a quite good
conversation about the consequences
of such priced maps but I don't want to cover any aspect of that. Instead I'm gonna present a feature which might work with pricing maps and also being able to play these maps for free.
Map cosmetics
- Maps with free basic version and priced cosmetics
This concept is basically a similar system like a known app where a free version and a premium version exists. What does free and premium - in the context of
maps
- could mean?
Well basically it can be anything including this comprehensive list:
| | |
| --- | --- |
| Free maps | Priced DLCs |
| Only basic shell | High quality assets |
| Un-themed map | Several themes like winter, apocalypse-like, UE4 Elemental, etc. |
| Could include ads | Free of any ads |
Any server admin can install the free version. The author of these versions should create both versions to be conform so one map doesn't differ much from the other one. The server is able to calculate everything properly (if the map has proper collision data) and a connected client will automatically been able to download that free version.
How to create such map? A good example is the optimized map by CaptainMigraine called
DM-Deck-Pro for UT3
. This map is highly optimized and features a low-poly (low quality) BSP-like version but also a high quality version (still visually reduced to get proper FPS in online games). I used his version to create a noticable version of such conceptional map. In the following video, the left screen is a client which doesn't have the cosmetic item installed. The right instance has it. Both connect to the same server and play on the same server.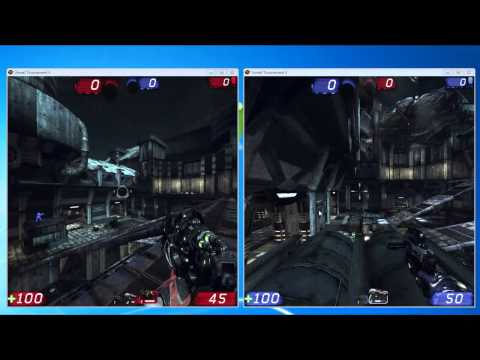 As you might have seen, the left player has a low qualtiy map but the right one has additional effects like falling snow particles and various complex meshes on the top scene and on walls etc.. This cosmetic map is (currently) loaded once the map starts for a client (this happens when the game actually starts).
So this is an UT3 example, I tried the same thing on UE4 (UT4). I'm not gonna present a fully meshed map for the client version of UT or any cooked version as I'm not sure how I actually have to cook such map cosmetic items. So let's take a look at this example. The concept is the same. From the editor, I create 2 running instance which mimics a network game. In the following screenshot you can see the left instance is the server showing a very basic BSP map but the right instance is the client instance. This one has a map cosmetic loaded.
What's the purpose of this concept?
Well basically it would reduce the existence of a so called "paywall" (which is covered in the referenced thread) and it would also allow such maps to be played publicly without having to buy specific maps. If there are players who prefer to play on a quality map than just a pure gameplay focused map, they would be able to pay a given price the author has set for a specific
cosmectic item
from the marketplace for this map. As said, this allows to play that map on the same server, but with a different look.
Technical background
Technical issues might exist as I was using uncooked/non-packaged versions. I'm using the streaming level technique which is available in both engine versions. There might be some side effects as the map cosmetic is just another file where players could load a different file but this can be prevented by the game itself (hash check etc.). Currently, I used a method to check if a specific named map exists and the basic/free version just streams that level in. This level is declared in the free version so it couldn't be just modified to replace the map. Map cosmetics should not create a different layout.
You can try this concept on your own. Here are the files I used to create this video/screenshot.